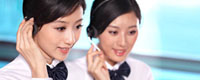 Name: Jessie
Tel: +86-755-27864416
Mobile: +86-18823763597
E-mail: jessie@rxxdisplay.com
Add: 3rd Floor Bldg.11,ChangXing Technical Zone,Wan An Road,Sha Jing town,Ban An district ,Shen Zhen ,GuangDong, China.
Skype: +8618823763597
WeChat: +8615623028461
whatsapp: +8618823763597
QQ: 1610996003





Company News
>> Zhou Houjian: Hisense Unwaveringly Develops Laser Display and ULED Technology
On June 13, Zhou Houjian, chairman of Hisense Group, made a keynote speech at an industry exhibition. He said that the color TV industry is still on the eve of "great changes." Each manufacturer is facing the direction of different display technologies and product lines, and Hisense will Unswervingly develop laser display and ULED technology.
Zhou Houjian stated in his speech: "With the rapid progress of digital video production technology, we have more and more high-quality content. As the core of television display technology, it has become a slow link in the industry chain. Existing television The quality of the picture has not been able to really 'impress' the increasingly discerning consumers, and it is not enough to incite the changing needs of consumers."
For example, he said that the latest data from IHS, a market research institute, showed that UHD panels accounted for more than 98% of the 60-inch and above monitor market in 2017. This year's World Cup will use HDR signals for the first time. These changes all mean painting. Quality will become the focus of the big screen competition.
"Our television industry is still in the ignorance of the eve of 'great changes.' All manufacturers cannot help but stand at the 'crossroads' of 'selection' and face technologies including LED-backlit LCDs, OLEDs, QLEDs, and laser displays. Choice of product line direction." Zhou Houjian said, Hisense is unwaveringly developing laser display and ULED technology, and along the ULED technology to enter the field of quantum dots and QLED, has achieved some substantial results.
Zhou Houjian believes that the "quality, sound, content, and interaction" that determine the competitiveness of TV are also changing, especially "interaction". With the development of AI artificial intelligence technology, Hisense's voice and image recognition technology has already manipulated TV " "Speaking of new heights. In terms of interaction, Hisense's World Cup official television designation not only automatically identifies the portraits of nearly a thousand players. In the display, it is also possible to automatically judge the scene according to the played picture and automatically switch to the best quality presentation. When it is recognized that the soccer game is being played, the television will automatically transition to the sports display mode.
Zhou Houjian focused on the development of picture quality and display technology in his speech. In his opinion, the changes in LED-backlit LCD TVs still have a lot of "space". This change is mainly centered on "partitioning." According to him, in July, Hisense will release the world's leading 5000-zone ULED TV to meet consumers' higher pursuit of picture quality. At the same time, technologies of up to 10000 divisions have also been completed in the laboratory. Hisense devotes itself to image processing algorithms and chip R&D. In July this year, the third-generation ultra-high definition image quality engine chip will be launched. It will make important progress in super-resolution, noise reduction, dynamic partition control, and other algorithmic technologies. It will once again greatly enhance TV. Consumer's picture quality experience.
Zhou Houjian stated that Hisense is the first company in the world to launch laser television, and has persistently promoted the development of the laser television industry, gaining more and more recognition from consumers, especially high-end consumers. Due to the cost-effective advantage of laser TVs in large size, Hisense firmly believes that laser TVs will become mainstream products for large-size TVs.
At the same time, he further stated that Hisense has been convinced that "hundred flowers bloom in spring", and Hisense hopes and welcomes more television companies to enter the laser television industry. At present, Hisense has mastered the development and production technologies of optical engines. Hisense is willing to work with global partners to promote the rapid and iterative development of laser televisions, to force smaller size, higher picture quality products, and make laser televisions in more sizes. In the segment, the replacement of other display televisions is realized, and more cost-effective laser television products are provided to a wider range of consumers.
Zhou Houjian emphasized that although the industry is changing from time to time, Hisense's "home field" is always an innovation in technology and products. Hisense is always confident about the future of television. With the development of China's economy, the imagination is very large. Hisense hopes to continue to introduce user-friendly differentiated products through continuous technological innovation to achieve greater market sales and higher market share.