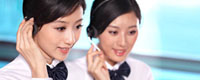 Name: Jessie
Tel: +86-755-27864416
Mobile: +86-18823763597
E-mail: jessie@rxxdisplay.com
Add: 3rd Floor Bldg.11,ChangXing Technical Zone,Wan An Road,Sha Jing town,Ban An district ,Shen Zhen ,GuangDong, China.
Skype: +8618823763597
WeChat: +8615623028461
whatsapp: +8618823763597
QQ: 1610996003





On November 27th, LG Electronics announced that its α9 Gen 2 (second generation Alpha 9) image processor is ready.
Undoubtedly, with the approach of CES 2019 (January 8th to 11th), LG is expected to announce that a new generation of OLED TVs will debut, one of which is the newly upgraded α9 Gen 2 chip.
In terms of core features, the α9 Gen 2 further enhances the quad/four-step noise reduction technology while supporting 120FPS HFR video playback.
In fact, the first generation of α9 chip OLED TV also supports 120FPS video playback, but only limited to read through USB media, mainly because of the bandwidth limitation of HDMI 2.0b interface. Not surprisingly, this time 120FS video based on 4K resolution will be able to be transmitted via the HDMI 2.1 interface.
HDMI 2.1 was released in November last year, and the bandwidth has soared to 48Gbps. It can fully support lossless video with resolutions and refresh rates such as 4K/120Hz, 8K/60Hz, 10K, and supports dynamic HDR.
In addition, the new OLED TV will also integrate ThinQ artificial intelligence voice features.