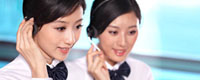 Name: Jessie
Tel: +86-755-27864416
Mobile: +86-18823763597
E-mail: jessie@rxxdisplay.com
Add: 3rd Floor Bldg.11,ChangXing Technical Zone,Wan An Road,Sha Jing town,Ban An district ,Shen Zhen ,GuangDong, China.
Skype: +8618823763597
WeChat: +8615623028461
whatsapp: +8618823763597
QQ: 1610996003





Company News
>> For the first time in the history of the Mate series! Huawei Mate 40/40 Pro full hyperboloid screen
According to the news on July 10th, the news broke @RODENT950, Mate 40, Mate 40 Pro are hyperbolic screens.
@RODENT950 said that Mate 40 and Mate 40 Pro used waterfall screen.
This is the first time that the Mate series is equipped with a hyperboloid screen as standard. The previous two generations of flagship Mate 20 series and Mate 30 series are all designed for the curved screen in the Pro version, while the standard version is a straight screen (PS: Mate 9, Mate 9 Pro is also a straight screen, curved screen design).
It is still unclear whether the Mate 40 series uses a bangs screen or a hole screen. It has been reported that the Mate 40 Pro supports 3D face recognition, and it is expected that the screen fingerprint will be retained.
Starting with the Mate 20 series, Huawei introduced 3D face recognition in the Pro version, while retaining the screen fingerprint. Mate 30 Pro is also 3D face recognition, this generation of Mate 40 Pro may also continue this biometric technology.
In terms of core configuration, both Mate 40 and Mate 40 Pro will be equipped with Kirin's new generation flagship Soc. It is reported that Kirin's next generation flagship Soc is named Kirin 1020 and adopts a 5nm process. This is the industry's first 5nm chip.
In addition, it is reported that the Kirin 1020 chip continues to lead in 5G, and the integrated 5G baseband supporting SA and NSA can ensure that users will not be eliminated in the next three to four years; in addition, it also integrates the Da Vinci architecture NPU, The AI ​​computing power is further improved, the image processing speed is faster, and the support for taking pictures is better.