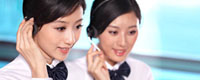 Name: Jessie
Tel: +86-755-27864416
Mobile: +86-18823763597
E-mail: jessie@rxxdisplay.com
Add: 3rd Floor Bldg.11,ChangXing Technical Zone,Wan An Road,Sha Jing town,Ban An district ,Shen Zhen ,GuangDong, China.
Skype: +8618823763597
WeChat: +8615623028461
whatsapp: +8618823763597
QQ: 1610996003





Company News
>> Domestic OLED panel development is still far from the gap between foreign countries 2rd,May,2017
In recent years the domestic smart phone market has developed rapidly, but the most advanced AMOLED technology has been monopolized by foreign countries. As the domestic market began to actively develop intelligent equipment upstream supply chain, in addition to semiconductor processors, DRAM, NAND Flash, the small size of the AMOLED panel has also been unprecedented attention.
The three major bottlenecks of AMOLED technology are Top Emission technology, high-resolution technology, and surface panel technology. Top luminous technology compared to the traditional bottom light (Bottom Emission) technology, a panel aperture and luminous efficiency is higher, more power-saving advantages, but the panel structure is more complex. AMOLED luminescent materials evaporation process for the improvement of one of the main obstacles to improvement, and with the panel to improve the fine, technical barriers to increase multiple.
At present, the mainstream of the high-end smart phone panel specifications is about 5 to 5.5 inches, Full HD resolution, fine degree of about 400 ~ 450 ppi, Lu has been able to mass production of this specification. Samsung Display has a mass production of more than 550 ppi 2K resolution panel, the letter has also produced Full HD AMOLED panel, but the fine degree of 387 ppi, there is still a small gap. China's major panel manufacturing has shown a flexible AMOLED panel, but there are still problems in volume production, the current soft-yu production of soft display and for its own brand of 3D VR glasses, but the output is not high.