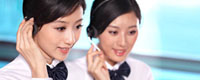 Name: Jessie
Tel: +86-755-27864416
Mobile: +86-18823763597
E-mail: jessie@rxxdisplay.com
Add: 3rd Floor Bldg.11,ChangXing Technical Zone,Wan An Road,Sha Jing town,Ban An district ,Shen Zhen ,GuangDong, China.
Skype: +8618823763597
WeChat: +8615623028461
whatsapp: +8618823763597
QQ: 1610996003





Company News
>> LCD downturn on China's display industry is a blessing is a curse 23th,June,2017
Global LCD panel products (9 inches and above) in the 2016 ~ 2021 five years of compound growth rate of only 0.3%, announced that LCD technology will usher in the recent inflection point. Combined with the major panel enterprises gradually narrowed in the LCD panel production on the investment, and in the OLED market continue to increase investment in the action, I believe that OLED to replace the LCD display technology mainstream trend will enter the fast track.
Although the smart panel is currently supported by small and medium size panel market, or television, display support large panel market is still controlled by the LCD panel absolute market share, but almost everyone knows that LCD technology has seen its end.
Samsung SDI, LG Display and other panel manufacturers in 2016 decisive shut down or transformation of LCD panel production line, investment in OLED R & D and manufacturing funds and energy, resulting in the current global LCD panel market supply and demand stabilized to China, Japan, China Taiwan-based companies in the third quarter to get a good shipping and profit performance, but such a good and can not solve the fact that LCD technology has gone downhill.
It is expected that in 2017, Apple will be in the latest iPhone mobile phone products for the first time using OLED panel, then, OLED replacement LCD will become the mainstream trend will be determined, this panel enterprises have a tacit understanding, how To meet the arrival of the OLED era, more importantly, how to continue to shorten the Chinese panel enterprises and the gap between the Korean and Japanese brands, which is essential for five years.