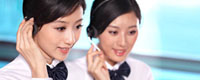 Name: Jessie
Tel: +86-755-27864416
Mobile: +86-18823763597
E-mail: jessie@rxxdisplay.com
Add: 3rd Floor Bldg.11,ChangXing Technical Zone,Wan An Road,Sha Jing town,Ban An district ,Shen Zhen ,GuangDong, China.
Skype: +8618823763597
WeChat: +8615623028461
whatsapp: +8618823763597
QQ: 1610996003





Company News
>> Profit low LCD factory production IT display panel 26th,June,2017
As the low profit margins, market growth slowed down, IT display panel LCD display manufacturers to become the first to give up the product line.
Market research firm IHS Markit observed that, due to China's liquid crystal display (LCD) production capacity continues to increase, and therefore bring the price competition, South Korean LCD panel manufacturers quickly realized that its liquid crystal display products will eventually lose profitability, so They will be the future of hope to the OLED display panel.
IHS Markit pointed out that due to low profit margins, market growth slowed down, IT display panel LCD display manufacturers to become the first to abandon the product line. Samsung Display took the lead in selling a five-generation plant (Gen 5) to a Chinese touch screen and module manufacturer last year. It is expected that Samsung will also carry out more plant restructuring, especially for factories specializing in the production of IT display panels.
IHS Markit senior analyst Jason Hsu said: "HP (HP) and Lenovo (Lenovo) and other brands expected notebook computer display panel will be excess, so the panel inventory to maintain a very low level; Samsung shows this change, may Will lead to the emergence of some brands in the third quarter of 2016 display panel shortage situation.
According to the latest news from IHS Markit, Samsung has shown a 30 million notebook display panel in 2015, according to the company's latest plant restructuring program, notebook LCD panel shipments may fall to 20 million in 2016, Fell to 400 million in 2017. Shipments this year than last year, 18 million, which means that some brands of notebook computer manufacturers may not find other sources to meet their production needs.
Looking back at the supply chain structure in the first quarter of 2016, it is clear that HP is most affected by these changes compared to other companies - Samsung has delivered 1.1 million units to HP in the first quarter, down to 350,000 in the second quarter The However, HP has transferred orders to other panel makers, such as Innolux, to get enough panels to meet their production needs.
BOE is another company that has benefited from Samsung's opt-out of liquid crystal display initiatives, while BOE's LCD panel shipments totaled 4.9 million units in the first quarter and 7.2 million in the second quarter; the 2017 BOE notebook Display panel production will reach 36 million.
IHS Markit noted that BOE began production of notebook display panels in 2009 and is now among the world's largest suppliers of IT display panel suppliers; and BOE has a company in Chongqing (Gen8) - the factory adjacent to the world's largest notebook computer Production base. Driven by more efficient logistics, the Beijing Dongfang Chongqing plant notebook computer display panel shipments are expected to grow rapidly next year.
LG Display and Samsung show that Apple has been supplying notebooks in the past; however, Samsung's reorganization of the plant (especially the migration of Oxide panels) has attracted more attention from Apple, which worries There may be a shortage of supply in the future.
For this reason, Apple is expected to add a panel supplier to its new MacBook Pro to reduce the risk of Samsung's business changes. For its original MacBook Air series of notebook computers, Apple is considering the use of Chinese suppliers, which will be Apple's first use of Chinese manufacturers LCD panel.
Samsung has been out of the LCD display business and has also affected the supply of wide viewing angle IPS and PLS display panels; Samsung has been one of the world's leading suppliers of wide viewing angle panels, with shipments behind LG To ensure that IPS and PLS panel supply, the brand manufacturers must show that after the reduction in Samsung, looking for alternative suppliers.
AUO (AUO) is one of the qualified candidate suppliers, its orders from the brand notebook computer manufacturers are rapidly increasing. AU Optronics, Group Optoelectronics and BOE and other Chinese panel suppliers are expanding IPS panel capacity to meet the growing demand for display panels