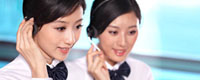 Name: Jessie
Tel: +86-755-27864416
Mobile: +86-18823763597
E-mail: jessie@rxxdisplay.com
Add: 3rd Floor Bldg.11,ChangXing Technical Zone,Wan An Road,Sha Jing town,Ban An district ,Shen Zhen ,GuangDong, China.
Skype: +8618823763597
WeChat: +8615623028461
whatsapp: +8618823763597
QQ: 1610996003





Company News
>> Strong demand for terminal applications AMOLED panel warfare began 29th,June,2017
With the mature TFT LCD display panel, AMOLED display panel to bring a wide range of development opportunities around the world panel. And whether AMOLED will become the standard for smart phone panels, and even gradually replace the LCD panel, with Apple announced that it will use AMOLED, 2017 will be a very critical moment of development.
Since many of the media outlets, Apple (Apple) 2017 iPhone series of smart phones new models, will have the opportunity to use active electromechanical light emitting diode (Active Matrix OLED, AMOLED) panel, causing the global panel industry No small topic.
Since then, South Korea, Japan, China and Taiwan panel manufacturers regardless of open or private expression, will be small and medium size AMOLED panel production line, of course, to South Korea Samsung monitor (SDC) the most powerful, LG Display (LGD) also began action. While the Chinese panel manufacturers rely more on the country's huge amounts of money, crazy cast AMOLED panel production line. Japanese factory display (JDI) is the wisdom of licensing, authorized other manufacturers to produce or for its OEM. Taiwan factory to Hon Hai's Sharp (Sharp) leader, since the global panel factory AMOLED panel production plan is one by one floating on the table, the battle of the Central Plains war began.
Korean factory still accounted for 90% of the market, the Chinese plant to catch up
As the AMOLED panel with many advantages relative to the TFT LCD panel, such as color, contrast, brightness, viewing angle, thickness, reaction time. And therefore there are more and more terminal display devices, such as smart phones, have begun to change the use of TFT LCD panel AMOLED panel.