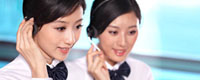 Name: Jessie
Tel: +86-755-27864416
Mobile: +86-18823763597
E-mail: jessie@rxxdisplay.com
Add: 3rd Floor Bldg.11,ChangXing Technical Zone,Wan An Road,Sha Jing town,Ban An district ,Shen Zhen ,GuangDong, China.
Skype: +8618823763597
WeChat: +8615623028461
whatsapp: +8618823763597
QQ: 1610996003





Company News
>> Sony to return to the OLED TV market to change the LGD panel 3rd,July,2017
Japan's Sony Corporation has announced its return to the OLED TV market after seven years of leaving, the company announces BRAVIA brand OLED TV in Tokyo on Monday and plans to sell it in Japan next month.
Sony in 2001 to develop OLED TV prototype, and in 2007 launched the world's first home OLED TV, but this section is only 11-inch cutting-edge product sales as expected, Sony decided to stop selling in 2010. Sony to return to the market is no longer self-development panel, will turn to purchase South Korea's LG Display (LGD) manufacturing OLED screen.
Sony on Monday launched the 55 "and 65" BRAVIA A1 series TV sets with 4K OLED panels and is expected to be on sale in Japan on June 10, with the goal of this year's flat-panel TV global market share from the current 8. 5% to more than 10%. The 65-inch BRAVIA A1 TV is priced at about 800,000 yen ($ 7092) and the 55-inch model is about 500,000 yen.
Sony and Panasonic's OLED panel business has been merged, and will be later this year into the Japanese display company, so Sony itself no longer has OLED TV panel technology.