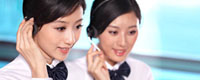 Name: Jessie
Tel: +86-755-27864416
Mobile: +86-18823763597
E-mail: jessie@rxxdisplay.com
Add: 3rd Floor Bldg.11,ChangXing Technical Zone,Wan An Road,Sha Jing town,Ban An district ,Shen Zhen ,GuangDong, China.
Skype: +8618823763597
WeChat: +8615623028461
whatsapp: +8618823763597
QQ: 1610996003





Company News
>> LGD launched the world's narrowest 0.7 mm border full HD LCD panel 5th,July,2017
October 30 afternoon news, South Korea's panel company LG Display announced the successful development of the border thickness of 0.7 mm 5.3-inch smart phone with FHD full HD LCD panel. The current credit card thickness of 0.8 mm, so this panel is thinner than the credit card.
Data show that this ultra-thin border LCD panel using Neo Edge module engineering technology and AIT (Advanced In-Cell Touch) technology to control the thickness of the border, giving up the use of double-sided adhesive tape drive board and backlight backlight program, But the use of adhesive to the entire panel and the border completely sealed. Through this means, you can save the fixed panel and backlight for the use of plastic box, which can significantly reduce the width of the border, but also to prevent leakage, water, dust and other effects,
And the exposed side of the traditional technology in the side of the panel is more fragile, and Neo Edge technology used in the formation of adhesives after the adhesive can effectively protect the panel to improve the traditional ultra-thin frame shortcomings.
AIT technology will be perfect in the touch panel embedded in the LCD panel, no additional frame will be the two combined and fixed, thereby further reducing the thickness of the product, while the end manufacturers to provide the possibility of ultra-thin design, and have excellent Touch feeling. Moreover, because the touch function and LCD using integrated production, no additional processes, can further reduce costs.
LG Display said publicly that the panel will be mass production in November this year, and first to the big screen smart phone demand for higher supply of Chinese customers.