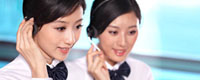 Name: Jessie
Tel: +86-755-27864416
Mobile: +86-18823763597
E-mail: jessie@rxxdisplay.com
Add: 3rd Floor Bldg.11,ChangXing Technical Zone,Wan An Road,Sha Jing town,Ban An district ,Shen Zhen ,GuangDong, China.
Skype: +8618823763597
WeChat: +8615623028461
whatsapp: +8618823763597
QQ: 1610996003





Company News
>> LCD panel tight will continue until the end of next year 8th,July,2017
From the first quarter of the market reaction, the impact of the US subprime mortgage impact is limited, but more than 40 inches TV product demand growth rate is not as expected, but in May TV brand factory will be launched price reduction strategy, will further stimulate consumer demand, due to TV product demand and shipments in the second quarter, capacity utilization will be close to full load.
AUO Vice Chairman Chen Hyun Bin said that the subprime mortgage crisis is not completely unaffected, the current price of more than 40 inches TV price pressure, but the TV has become a livelihood necessities, it seems that the second half of 2008 the market demand is good, but not too optimistic The He believes that, due to the 2009 8-generation line production has not yet fully out, from the market demand and panel production at both ends of view, the second half of 2009 panel supply is still tight.
The future product line will rely on the "Golden Corner", including the largest size of the products such as 8.9 inches or 10 inches, is expected in the third quarter of 2008 from the large supply of LED NB, and 16 : 9 monitor LCD TV, and the second quarter will be launched in line with TV energy-saving specifications of large-size TV products.
AUO said IT panel in the first quarter of strong demand, part of the display panel also appeared in the situation of price increases, looking forward to the second quarter, IT panel shipments increased by about 5% quarter, ASP can maintain the same level, TV panel part More than the suppression, as the overall shipment continued to focus on large size, is expected in the second quarter shipments will be less than 5% quarter, ASP price is also about 5%. Small and medium size by seasonal factors, the first quarter shipments have broken 10 billion yuan, close to 2007 3Q performance, although the mainland Chinese white card phone as expected, but will return to normal in April, and benefit from Low-cost computer orders demand, small and medium size will be raised from 7 inches to 8.9-inch panel, is expected in the second quarter shipments will increase by 15 to 20% quarter, is expected to rise back to 2007 4Q level.