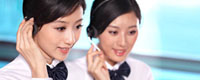 Name: Jessie
Tel: +86-755-27864416
Mobile: +86-18823763597
E-mail: jessie@rxxdisplay.com
Add: 3rd Floor Bldg.11,ChangXing Technical Zone,Wan An Road,Sha Jing town,Ban An district ,Shen Zhen ,GuangDong, China.
Skype: +8618823763597
WeChat: +8615623028461
whatsapp: +8618823763597
QQ: 1610996003





Company News
>> York University: Discover the new use of LCD panel waste 25th,Mar,2017
In the United States, countless electronic equipment waste is thrown into the dumpstore every year, although there are a number of relevant waste recycling programs in the United States, but researchers believe that there are ways to make more efficient use of these wastes than recycling. According to York University researchers, the LCD display generally contains the compound "PVA", a compound that can be used for medical purposes, but in the past people simply burned or buried the discarded LCD panel.
The research team has developed a way to extract PVA from these LCD panel waste and make it into a physical one. These extracted PVA can be used to make tissue stents to help repair human damage; the researchers also said that the compound can also be used as a carrier of drugs, these drugs will be transported to some specific parts of the body.
"There is already about 2.5 billion scrapped LCD monitors with scrap LCD panels," said James Clark, a research group. "We should not simply burn or burn these wastes, And that the useful parts of these wastes should be fully recovered. "
The research team will use this recycling technology to get the product called "foam PVA", they use the microwave to heat the LCD material in the water, and then use ethanol to clean the heated material.
Because it does not cause the body's immune system adverse rejection, so PVA material in medicine has a high utilization value.