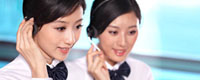 Name: Jessie
Tel: +86-755-27864416
Mobile: +86-18823763597
E-mail: jessie@rxxdisplay.com
Add: 3rd Floor Bldg.11,ChangXing Technical Zone,Wan An Road,Sha Jing town,Ban An district ,Shen Zhen ,GuangDong, China.
Skype: +8618823763597
WeChat: +8615623028461
whatsapp: +8618823763597
QQ: 1610996003





Company News
>> JOLED pushing the world's first printing OLED panel 19th,July,2017
Japan's OLED panel R & D company JOLED announced on May 17 that it has developed the world's first 4K OLED panel product with "Printed (Liquid-like light-emitting materials like printers on the substrate)" technology. JOLED OLED panel product size of 21.6 inches, has been in April to provide samples to the medical display, and then plans to expand the application of objects to television, games and other purposes.
JOLED is an OLED panel company that merges with Sony and Panasonic OLED panels and accepts the Japanese Industry and Commerce Agency (INCJ) and Japan Display Inc (JDI) on January 15, 2015, and currently holds JOLED 75% stake, JDI, Sony, Panasonic held 15%, 5%, 5% stake.
JDI plans to raise the shareholding of JOLED to 51% in late December 2017, and JOLED is the parent of JOLED, and JOLED is also expected to assume the position of JDI in June this year.
SAN JOSE, Calif. - JOLED has received orders from Sony, and JOLED announced that it will begin selling OLED panel products in early 2018. "In the mid-size panel section, printing technology will be the standard for OLED panels," said JOLED's president, at the press conference held on the 17th.
JOLED presented 16 OLED panel products for a wide range of applications such as televisions, medical displays, game displays, and flatbeds at a technology show held on the 17th, and also demonstrated the use of OLED characteristics. Where the size of the product, and will be the use of this year's JDI factory for a small amount of production.
Nikkei News pointed out that JOLED for the R & D company, there is no product shipments, so the current stage of revenue is zero, and R & D costs continue to be at a loss, so even three years to pay the loss of JDI JOLED In addition, for JOLED, if you want to become JDI savior, set foot on the money will be "filial piety" of the road, the first step is to establish a stable production of the world can first Of the printing OLED panel production technology.