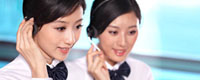 Name: Jessie
Tel: +86-755-27864416
Mobile: +86-18823763597
E-mail: jessie@rxxdisplay.com
Add: 3rd Floor Bldg.11,ChangXing Technical Zone,Wan An Road,Sha Jing town,Ban An district ,Shen Zhen ,GuangDong, China.
Skype: +8618823763597
WeChat: +8615623028461
whatsapp: +8618823763597
QQ: 1610996003





Company News
>> ISuppli: 2011 large-size LCD panel driver IC will reach 6.2 billion 26th,July,2017
ISuppli has said that the global display driver ICs for large-size LCD panels are expected to reduce global display driver IC shipments for large-size LCD panels from 3.8 billion in 2007 to 6.2 billion in 2011 One. ISuppli previously forecast shipments of 7 billion in 2011.
ISuppli said IC unit shipments will also affect the operating income forecast. The current operating income is expected to remain flat between 2007 and 2011, reaching about $ 3.4 billion. The impact of unit shipments growth will be offset by a sharp fall in average selling price (ASP). Panel manufacturers, OEM and display driver IC manufacturers continue to compete, but also to promote the decline in ASP.
Large-size LCD panels have traditionally been the largest application of the driver IC market. This is because these larger, higher resolution displays require more driver ICs per panel than smaller and lower resolution LCD panels. Until 2007, in the 720p resolution LCD TV also often see up to 12 display driver IC. These drives typically have 350 to 480 channels.
ISuppli pointed out that now has 720 channels of the drive in the LCD TV in the penetration rate of rapid rise. With the use of these multi-channel drives, the number of drives in 720p LCD TVs currently using 720 (or 640) channel source drivers and 400-channel gate drivers has been reduced to eight, and as the number of outputs on these ICs continues to increase The number of driver ICs in each panel will drop to six or less.
This trend has been seen in other large-size LCD panel applications, such as desktop monitors and notebook computers, and multi-channel driver ICs have a high penetration rate in these applications.
On the other hand, with the increase in the number of channels, the display driver IC also adds more features, high-end LCD TV from each color 8-bit drive capability to each color 10-bit direction to improve color reproduction, the more The more television has made such a request.
And some leading LCD suppliers are now developing related capabilities to integrate more circuits on top of the panel. This will create some conditions for adding some relatively simple drive functions to the panel. This will help to develop lower cost, thinner, lighter weight panels while reducing the need for additional display driver ICs.