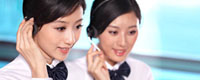 Name: Jessie
Tel: +86-755-27864416
Mobile: +86-18823763597
E-mail: jessie@rxxdisplay.com
Add: 3rd Floor Bldg.11,ChangXing Technical Zone,Wan An Road,Sha Jing town,Ban An district ,Shen Zhen ,GuangDong, China.
Skype: +8618823763597
WeChat: +8615623028461
whatsapp: +8618823763597
QQ: 1610996003





Company News
>> Hard knock Samsung OLED JDI or push the LCD panel can be bent 9th,August,2017
According to Japanese media reports, small and medium size panel giant Japan Display Inc (JDI) plans to launch in mid to late 2017 flexible LCD panel products. In the small size of the flexible part of the panel, South Korea's Samsung Electronics has launched OLED products, but JDI R & D in the flexible LCD panel products have a higher degree of sophistication than the OLED, and lower cost advantages.
JDI or launch a flexible LCD panel
The report indicates that it is easier to bend than the OLED panel without backlight modules. LCD panel due to the use of backlight modules, filters and other materials to overlap the majority of the structure, so to be bent must have high-tech capabilities, and JDI is currently developing test works, China's smart phone factory has expressed great interest.
JDI said last year that it plans to launch a flexible LCD panel in 2019. If the Yomiuri news report came true, JDI's flexible LCD panel product will come out ahead of schedule. JDI on November 9 last year announced the earnings data to expose the FULL ACTIVE panel technology research and development blueprint, said and a number of LCD panel supply chain research and development in 2017 to achieve four border no border (ultra-narrow frame) technology, 2018 To achieve a thin, low power consumption, 2019 to achieve flexible design.
JDI said that compared to the flexible OLED panel pixel density (pixel density) about 400ppi, flexible FULL ACTIVE panel up to about 800ppi, and flexible FULL ACTIVE in the thickness, frame design will be comparable to OLED, and In the power-saving performance will be better than OLED, life, cost will be far better than OLED.