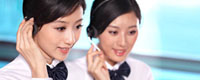 Name: Jessie
Tel: +86-755-27864416
Mobile: +86-18823763597
E-mail: jessie@rxxdisplay.com
Add: 3rd Floor Bldg.11,ChangXing Technical Zone,Wan An Road,Sha Jing town,Ban An district ,Shen Zhen ,GuangDong, China.
Skype: +8618823763597
WeChat: +8615623028461
whatsapp: +8618823763597
QQ: 1610996003





Company News
>> LGDisplay large-size LCD share for four consecutive years the world's first 28th,Mar,2017
LGDisplay last year, the world's largest LCD panel market for four consecutive years the world's first. According to the February 4 market research firm DisplaySearch latest data show that last year more than LGDisplay9.1 large LCD panel shipments of 100.6866 million 5000, 26.7% market share ranked first in the world.
Since the fourth quarter of 2009 for 17 consecutive quarters, 4 years ranked first. LGD in the TV, notebook, monitor panel with three major products with all the leading panel.
LGD related person in charge said mainly due to its flagship product IPS hard screen and copper wiring technology, do not rely on specific customers, the customer base diversification strategy.
The data show that Samsung shows the market share of 14.37 million, 20.2% market share in second place. Qunchuang and AUO were ranked third and fourth in the amount of 124.31 million (17.8%) and 106.82 million (16.7%) respectively.
Last year, the overall large LCD panel shipments of 698.16 million 6000, compared to the previous year's 775.62 million 2000 to reduce 7.8%.
Large-scale LCD panel market from 2004 to 2012 9 years the average annual growth rate (CAGR) was 23.7%, has continued to grow rapidly, last year for 10 years for the first time to reduce the trend.