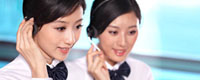 Name: Jessie
Tel: +86-755-27864416
Mobile: +86-18823763597
E-mail: jessie@rxxdisplay.com
Add: 3rd Floor Bldg.11,ChangXing Technical Zone,Wan An Road,Sha Jing town,Ban An district ,Shen Zhen ,GuangDong, China.
Skype: +8618823763597
WeChat: +8615623028461
whatsapp: +8618823763597
QQ: 1610996003





Company News
>> Samsung single-quarter net profit of the first ultra-Apple chip and OLED panel business is the hero 14th,August,2017
From the business point of view, the second quarter of this year, Samsung Electronics Consumer Electronics (color TV, white goods business) sales of 10.92 trillion won (about 9.813 billion US dollars), down 1.1 over the same period last year %; Operating profit of 0.32 trillion won (about 288 million US dollars), down 68%.
IT and mobile communications sector sales of 26.969 billion US dollars, up 13%; semiconductor sector sales of 15.799 billion US dollars, up 46.5%, operating profit of 7.216 billion US dollars an increase of 204.2%; show Panel sector sales of 6.929 billion US dollars, an increase of 20.1%; equipment solutions sector sales of 22.619 billion US dollars, an increase of 37%.
Samsung's mobile phone business contributed the most revenue, while the semiconductor, equipment solutions business contributed the greatest profit, the largest increase in panel business profits.
Samsung Electronics said the semiconductor business in the case of tight supply profit growth, mainly benefited from the strong demand for high-density memory and solid-state hard drive, the system semiconductor business to increase the mobile processor and image sensor sales.
For the display panel business, OLED panel business profitability is due to high-end smart phones for flexible panel sales increased; LCD panel profit enhancement, mainly due to high-end, large-size UHD (ultra-high-definition) panel sales increased.
Mobile business revenue chain has seen a substantial increase in benefit from the smart phone Galaxy S8, S8 + global promotion. However, due to the increase in parts costs, operating margin declined slightly. The decline in TV revenue is due to increased panel costs and slowing demand in Europe and China. While home appliance business, continued B2B investment led to lower earnings year on year.
Samsung has been acquired by the acquisition of Harman audio business in the second quarter of this year, sales of 1.9 billion US dollars, operating profit of about 200 million US dollars. However, with the increase in acquisition costs, net profit is about $ 5 million. Samsung expects the next few quarters, these costs will continue to affect the performance of Harman, an average of 100 million US dollars per quarter.
Rely on upstream parts beyond Apple
Group Intelligence Deputy General Manager Li Yaqin to the "First Financial Daily" reporter said that Samsung's revenue has been larger than the size of Apple. In recent years in the semiconductor, OLED panels, LCD panels and other business together to promote, Samsung Electronics has significantly improved profitability, net profit began to exceed Apple.
Samsung Electronics is currently the world's largest chip, OLED panel suppliers. It can be said that Samsung Electronics is relying on the upstream chip, panel business growth, to achieve a single quarterly net profit on Apple's beyond.
Specifically, from the semiconductor business, benefit from the solid-state hard drive demand improved, part of the wafer production capacity transfer, resulting in DRAM (memory), NAND Flash (flash memory) tight supply and demand, prices continue to rise. With the smart phone performance, the market demand for DRAM, sensor (sensor) is growing. Although Samsung, Hynix and other semiconductor manufacturers began to increase capital investment for expansion, but far from the water can not save the thirst, this tight supply and demand situation is expected to continue until the second half.
Samsung Electronics split the foundry business in the second quarter of this year, from the LSI (system semiconductor) business in the independent, will strengthen its flexibility in business capacity, in the open market to expand OEM business, for wafer foundry customers The
From the OLED display panel, due to strong demand for flexible OLED panels, and Samsung occupies 98% of the global market share, coupled with its yield to enhance and scale, revenue and profits will continue to grow. Sigmaintell predicts that "Samsung's flexible OLED panel capacity will be doubled in nearly a year."
But in the rigid OLED, is faced with from the LTPS LCD (low temperature polysilicon LCD panel) competitive pressure, price and profit will be affected according to the different season.