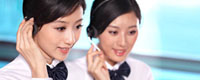 Name: Jessie
Tel: +86-755-27864416
Mobile: +86-18823763597
E-mail: jessie@rxxdisplay.com
Add: 3rd Floor Bldg.11,ChangXing Technical Zone,Wan An Road,Sha Jing town,Ban An district ,Shen Zhen ,GuangDong, China.
Skype: +8618823763597
WeChat: +8615623028461
whatsapp: +8618823763597
QQ: 1610996003





Company News
>> BOE, and Hi-Tech and other expansion accelerated OLED panel process 16th,Sep,2017
According to reports, Apple and Samsung's display panel manufacturer SamsungDisplay signed a two-year value of about 9 billion US dollars of small size OLED panel supply agreement, SamsungDisplay this year will supply 70 million to 69 million to 72 million small size, Apple lead Mobile phone industry continues to innovate, will drive other mobile phone manufacturers to accelerate the small size of OLED panels to quickly penetrate.
China's BOE, Huaxing Optoelectronics, Guocheng Optoelectronics, and Huaguang and other manufacturers have introduced OLED panel production line construction plan, which BOE fastest development, the latest 6-generation Chengdu production line is expected to put into operation in 2017, 2018 domestic production capacity will enter the fast Release period.
Panel production line production, domestic equipment import substitution process to speed up. In the overseas show that the enterprise for OLED display expansion and equipment supply and demand in the context of short-term tension, on the one hand flat panel display industry automation trends, equipment continued to upgrade; the other hand, the mainland shows the leading enterprises will experience a continuous number of years High-end display production line to build the golden cycle, domestic equipment import substitution demand and the amount is also large.
The rapid development of OLED will drive the rapid expansion of the entire OLED industry chain, including manufacturing equipment, materials, assembly and other industrial chain will give birth to great opportunities. Apple OLED screen and the application of BOE OLED production in 2017 is expected to catalyze OLED theme investment. Societe Generale Securities advised investors to actively pay attention to the subject of industry-related revenue. Upstream raw materials and equipment: precision electronic, Wanrun shares; intermediate supporting components: in Ying Electronics; downstream panel enterprises: BOE, deep Tianma, black cattle food.