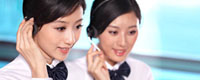 Name: Jessie
Tel: +86-755-27864416
Mobile: +86-18823763597
E-mail: jessie@rxxdisplay.com
Add: 3rd Floor Bldg.11,ChangXing Technical Zone,Wan An Road,Sha Jing town,Ban An district ,Shen Zhen ,GuangDong, China.
Skype: +8618823763597
WeChat: +8615623028461
whatsapp: +8618823763597
QQ: 1610996003





Company News
>> Want to compete with Samsung? LG has been ready for mass production of OLED panels 25th,Sep,2017
With the development of science and technology, mobile phone screen and TV screen have evolved into a flexible OLED screen. Samsung has done a good job before the full production of OLED panel preparation, as a competitor LG to be outdone. Recently, according to ZDNet reported, LG Display has done a mass production of plastic OLED panel (POLED) preparation.
It is reported that through the use of plastic materials POLED panel flexibility and flexibility can be greatly improved, in order to make this technology can be widely applied to a number of products, such as smart phones, watches and cars, etc., LG has long been POLED Production has invested billions of dollars in funding. There are related reports that LG will be shipped in the first half of 2017 POLED panel partners. Although LG did not disclose what customers, but according to previous reports can confirm that LG has earlier with some car manufacturers have reached a deal.
Throughout the current market with OLED panel-related products, in the field of mobile phones are the most used, Samsung, vivo and so launched the market-oriented OLED screen mobile phone, and in the consumer community has made a good response. Although the field of television is also involved, but because of large-screen OLED panel performance instability, production difficulties and other factors have not been a large number of applications. However, the response in the field of mobile phones seems to accelerate the process of OLED panel production.