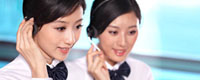 Name: Jessie
Tel: +86-755-27864416
Mobile: +86-18823763597
E-mail: jessie@rxxdisplay.com
Add: 3rd Floor Bldg.11,ChangXing Technical Zone,Wan An Road,Sha Jing town,Ban An district ,Shen Zhen ,GuangDong, China.
Skype: +8618823763597
WeChat: +8615623028461
whatsapp: +8618823763597
QQ: 1610996003





Company News
>> Panasonic R & D new LCD panel contrast ratio OLED 17th,Oct,2017
Panasonic has announced that they have developed a new LCD panel has broken through the black level of the restrictions, the contrast can reach a staggering 1000000: 1. If this is true, that LCD panel in the fight against OLED which will no longer be at a disadvantage.
OLED panel is one of the biggest features of the perfect black level, which is also considered to determine the quality of one of the most important factors. Because you want to show a great contrast, first have to have a pure black bottom "canvas". And because the OLED panel can be individually controlled pixel switch, so even if its brightness does not reach the LCD level, it can be shown by the black to achieve high contrast.
In contrast, the LCD panel is dependent on the brightness of the LED backlight to achieve high contrast. Because its pixels can not completely cover the rear launch of the light, so it can not show pure black. This is why LCD TV will produce a halo effect when displaying bright objects in a dark background.
But the TV manufacturers have not tried to solve this problem, but instead to develop to shoulder to shoulder even beyond the OLED of new technologies, such as Samsung QLED panel based on quantum technology.
But now, Panasonic claims to have developed a technology that can fit the current LCD panel, providing the perfect black level while achieving the highest brightness of 1000 nits.
According to the introduction, this new IPS LCD panel in the conventional display unit behind the addition of a new optical modulation layer, can filter out the light from the backlight, so as an additional switch to control the pixel alone.
When working with high-density backlighting, this technology can show 600 times the contrast of ordinary LCD panels, but also completely eliminate the light leakage, halo and black pan-gray problem. And compared with other types of LCD panels, IPS also can bring a wider viewing angle.
Although today's LCD TV has been in the use of local dimming the way to control the screen of a separate area, but Panasonic's this pixel-by-pixel control can show a better viewing effect. For now, Panasonic will first apply this technology in the commercial areas, such as live television, video production, medical display and automotive display, but consumer TV for this technology will be followed.
If the actual effect of this technology is in line with Panasonic's propaganda, it will likely shake the entire TV market. At present, OLED panel costs are still high, mass production is also difficult, and QLED TV requires new production equipment and technology. But Panasonic said that the traditional LCD panel production equipment can be used to make their own this new panel, which also maintain a lower production costs, and no need for additional adjustment of production equipment.
Panasonic said that this new LCD panel will begin trial production in January next year, I believe we will be at the next year's CES show to see more relevant information.