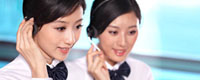 Name: Jessie
Tel: +86-755-27864416
Mobile: +86-18823763597
E-mail: jessie@rxxdisplay.com
Add: 3rd Floor Bldg.11,ChangXing Technical Zone,Wan An Road,Sha Jing town,Ban An district ,Shen Zhen ,GuangDong, China.
Skype: +8618823763597
WeChat: +8615623028461
whatsapp: +8618823763597
QQ: 1610996003





Company News
>> Sumitomo Chemical new technology to help OLED panel cost cut is expected to promote the popularity of OLED TV 19th,Oct,2017
SANTA CLARA, Calif. - Sumitomo Chemical has developed a new technology that will improve the accuracy of OLED panel light-emitting components, and the new technology will significantly reduce manufacturing costs for OLED panels. The goal is to reduce panel manufacturing costs , Which is expected to depress the price of OLED TV, promote the popularity.
Sumitomo Chemical developed a new technology for the use of printing methods for the formation of light-emitting components of polymer materials, like inkjet printers, blowing material, the formation of light-emitting components.
The current OLED panel manufacturing technology is based on "vapor deposition (vaporization of red, green, blue and other luminescent materials on the substrate in vacuum"), but the vapor deposition technology requires high equipment and is easy to waste Multi-material, high cost; and printing technology (the liquid luminescent material like a printer as the application of precision on the substrate) is low, but to produce large-size panel, it is difficult to evenly coated luminescent materials.
It is reported that if the new materials developed by Sumitomo Chemical can be used to achieve the goal of "uniform coating", Sumitomo Chemical has also developed new materials for manufacturing equipment.
JOLED is expected to use the new technology for 21.6-inch medical OLED panels that will be sold this fall, according to JOLED, a subsidiary of Sumitomo Chemical and overseas panel mills and Japan Display Inc (JDI) And Sumitomo Chemical will also call South Korea's LG Display (LGD) and other manufacturers to adopt the new technology, the target production in 2019, applied to large-size TV.
Seo Kwang-hyun, vice chairman of the Korea Display Industry Association (KDIA), said in an exclusive interview that the OLED panel market is currently under control by the South Korean industry, but if China Or Japanese manufacturers in the OLED inkjet printing technology to take the lead, then the industry situation will therefore comeback.
The production of OLEDs in ink-jet printing is simpler and faster than the current Evaporation technology, which does not waste raw materials, while the traditional vapor deposition process ultimately retains only 10-40% of the feedstock The Looking at the opportunities for inkjet printing OLEDs, South Korea, China and Japan panel mills have been actively involved in the study, but because of technical problems, it is estimated to spend four to five years, have the opportunity to mass production.
Japan OLED panel R & D company JOLED announced on May 17, has developed the world's first "printing" technology 4K OLED panel products. JOLED OLED panel product size of 21.6 inches, has been in April to provide samples to the medical display, and then plan to expand the application of the object to the TV, games and other purposes.
Sankei Biz reports that JOLED has received orders from Sony, and JOLED President Dong Jintao said at a press conference held on May 17 that "in the mid-size panel, printing technology will become OLED panel standards ".
JOLED is an OLED panel company that merges with Sony and Panasonic OLED panels and accepts the Japanese Industry and Commerce Agency (INCJ) and Japan Display Inc (JDI) on January 15, 2015, and currently holds JOLED 75% stake, JDI, Sony, Panasonic held 15%, 5%, 5% stake.