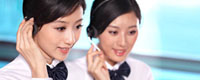 Name: Jessie
Tel: +86-755-27864416
Mobile: +86-18823763597
E-mail: jessie@rxxdisplay.com
Add: 3rd Floor Bldg.11,ChangXing Technical Zone,Wan An Road,Sha Jing town,Ban An district ,Shen Zhen ,GuangDong, China.
Skype: +8618823763597
WeChat: +8615623028461
whatsapp: +8618823763597
QQ: 1610996003





Company News
>> Rainbow invested billions to build the 6th generation LCD panel production line 30th,Mar,2017
China's largest color picture tube manufacturer Rainbow Group recently announced in Zhangjiagang City, where the investment of billions of dollars to build the 6th generation of thin film liquid crystal display (TFT-LCD) production line, to create the largest flat panel display industrial park.
The project by the Rainbow Group and Zhangjiagang Economic Development Zone Industrial Corporation, such as the use of strategic cooperation model, the use of their own resources and advantages of joint construction, will focus on high-generation TFT-LCD panel production line construction, to create the largest, The formation of a set of manufacturing and research and development in a flat panel display industrial park; supporting the construction, including glass substrate, color filter film, backlight module, including related industries, the formation of a more complete LCD industry chain; set up flat panel display technology research and development center, Key technology, the formation of independent intellectual property rights, with the leading domestic, world-class flat panel display technology research and development capabilities.
The first phase of the construction of a total investment of about 15 billion yuan, the construction period of two years. Plans to 60,000 / month capacity scale investment, can form an annual output of 32/37 inch LCD TV display panel capacity of 4.372 million.
Industry sources said that China's TFT-LCD market has developed rapidly in recent years. Construction of the 6th generation TFT-LCD liquid crystal display production line will help to change the domestic large-size LCD TV panels all from the status of overseas imports.