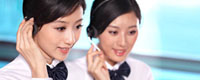 Name: Jessie
Tel: +86-755-27864416
Mobile: +86-18823763597
E-mail: jessie@rxxdisplay.com
Add: 3rd Floor Bldg.11,ChangXing Technical Zone,Wan An Road,Sha Jing town,Ban An district ,Shen Zhen ,GuangDong, China.
Skype: +8618823763597
WeChat: +8615623028461
whatsapp: +8618823763597
QQ: 1610996003





Company News
>> BOE to promote business based on industrial development the next three years sales will double
As the key trigger point of the fourth industrial revolution, artificial intelligence will become the only way to realize the major technological breakthrough of mankind in the future. It will affect the progress of internet of things and gene technology and profoundly change human and human society. Chairman of BOE Wang Dongsheng, BOEIPC · 2017 (BOEIPC · 2017) "pointed out that BOE is constantly promoting the business evolution based on the industrial development trend. In the past five years, on the basis of display technology, BOE has developed sensor devices related to information exchange and human health, forming three major businesses of display devices, smart systems and health services.
2016 is seen as the first year of ArtificialNarrowIntelligence. Wang Dongsheng defined 2016 as the year of opening of Internet of Things 1.0. IoT 1.0 stage will release a huge market energy. McKinsey estimates that by 2030, the Internet of Things market will reach 27.6 trillion US dollars, which is more than 20 times the size of the Internet of Things market in 2017. Similarly, WHO predicts that the global health services market will increase from $ 9.8 trillion in 2017 to $ 20 trillion by 2030, with a 6% CAGR in the global market and a growth in the China market of more than 10%.
Although the Internet of Things market is huge, there are still huge challenges. Wang Dongsheng pointed out that to seize the opportunities in the Internet of Things market requires more powerful information collection, transmission, computing, storage and display capabilities, more scientific, rational, efficient and continuously optimized algorithm support, and high-quality big data and information security assurance.
In response to the Internet of Things era, BOE itself has been repositioned. In the context of moving toward a smart society, BOE is advancing enterprise innovation, transformation and development along the lines of "application integration" and "model evolution." Wang Dongsheng pointed out that BOE is an Internet of Things company that provides smart port products and professional services for information exchange and human health.