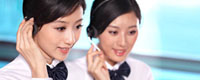 Name: Jessie
Tel: +86-755-27864416
Mobile: +86-18823763597
E-mail: jessie@rxxdisplay.com
Add: 3rd Floor Bldg.11,ChangXing Technical Zone,Wan An Road,Sha Jing town,Ban An district ,Shen Zhen ,GuangDong, China.
Skype: +8618823763597
WeChat: +8615623028461
whatsapp: +8618823763597
QQ: 1610996003





Company News
>> Apple collaborates with BOE to develop a folded OLED display
According to foreign media reports on November 27, Apple may abandon Samsung as its supplier of OLED displays as it is currently working with BOE, China's largest monitor maker, to develop a collapsible OLED screen.
It is reported that Apple has filed for the foldable OLED screen patents, and headquarters may be developing this for the future iPhone models foldable screen. Meanwhile, according to ETNews reports, BOE is currently also preparing to develop Apple-dedicated folding OLED displays.
Samsung is the supplier of the iPhone X OLED display, and the iPhone X may be Apple's designated model that will use the foldable display. However, if Apple diversifies its supply chain of OLEDs or completely abandons its rival Samsung, it will put a monopoly on the market.
However, unless Apple has found strong supply chain support, otherwise the next generation of iPhone is unlikely to use folded OLED display. And Apple will surely make sure its iPhones are not flawed, so it will certainly test BOE's products before signing with BOE's new monitor maker.
It is noteworthy that many technology companies compete for folding screen accessories, and even some companies have also applied for a large number of patents. However, a foldable display that truly fits mass market devices has not yet appeared. Therefore, these messages are just rumors of the display industry.
However, if Apple can develop a foldable display ahead of its competitors, Apple will be back in the forefront of phones and technology innovations, even as Face Scanning technology in Face ID technology lags behind.