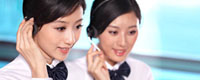 Name: Jessie
Tel: +86-755-27864416
Mobile: +86-18823763597
E-mail: jessie@rxxdisplay.com
Add: 3rd Floor Bldg.11,ChangXing Technical Zone,Wan An Road,Sha Jing town,Ban An district ,Shen Zhen ,GuangDong, China.
Skype: +8618823763597
WeChat: +8615623028461
whatsapp: +8618823763597
QQ: 1610996003





Company News
>> 2019 China or into the world's largest panel manufacturing base
Data show that the third quarter of this year, China's leading display panel maker BOE beyond LG Display as the world's largest manufacturer of large-size panels. Meanwhile, at the same time, technological integration and breakthroughs in China's display industries are also accelerating. China shows that manufacturing is attracting more and more attention on the global stage.
Size "double line" force
Recently, the market research firm IHS Markit released data show that the third quarter. LG Display, the world's largest panel maker, has dropped to 19.3% of the world's largest panel market and BOE has a 21.7% market share, which means BOE will surpass LG as the world's largest maker of large-size panels.
This is another breakthrough made by BOE this year, but before that, BOE has successfully attracted global attention in the manufacture of small-size panels.
Recently, BOE announced the 6th generation flexible small-size OLED screen production line in Chengdu ahead of production. It is the first 6th generation flexible small size OLED screen production line in China and the second 6th generation flexible small size OLED screen production line in the world. The production line uses the world's most advanced evaporation process, and the use of flexible packaging technology enables screen bending and folding. This year is considered to be China's high-end flexible mobile phone screen Samsung exclusive monopolization began to move toward self-sufficiency in the first year.
In addition to BOE, Huaxing, another panel manufacturer in China, has made many breakthroughs this year. Recently, TCL Group revealed that its production capacity of Huaxing Optoelectronic Technology Co., Ltd. has been rising and is still under full capacity. In Q4, orders are in good condition. Research and development of Wuhan Huaxing Full Screen Products is underway and mass production is expected in the fourth quarter.
It is reported that at present, China Star Optoelectronics has two 8.5-generation line and a 11-generation line in Shenzhen, the main production of television panels; two 6-generation line in Wuhan, the main production of small-size panels such as mobile phones.
BOE, Huaxing Power transcripts submitted in recent years is only a microcosm of China's sudden emergence of panel manufacturing. In the past, South Korean companies Samsung Display and LG Display size panel manufacturing occupy the absolute leading position in the world, but now the situation is changing. Chinese panel makers represented by BOE, Huaxing Optoelectronics Co., Ltd. and Tianma Technology Co., Ltd. are gradually strengthening their own capabilities. They want to compete with Korean companies for the title of "one brother" in the field of panel manufacturing in the world.
Display industry under construction and planning investment of 800 billion yuan
Just as BOEK became the largest panel maker in the world in the same period, on the 28th in Guangzhou, poly conglomerate revealed the completion of a public platform, which is the first public open platform for R & D in China's display industry.
This reporter learned that the public platform brings together Huaxing Power, Pegasus Technology, Panda and other display industry leading enterprises and South China University of Technology, Huazhong University of Science and Technology, Fuzhou University, Institute of Chinese Academy of Sciences and many other institutions of higher learning institutions, will display Industrial enterprises to provide technical solutions, including OLED, QLED and other display technologies will become the future focus of the platform research.
Insiders pointed out that when looking at the global display industry, China has been actively exploring. In the "13th Five-Year National Key Research and Development Program Key Project", "Made in China 2025" key technology line, shows that the development of the industry has been placed in an important position. The new display is the cornerstone of the electronic information industry, has broad prospects for development, from display materials, devices, equipment, manufacturing technology to display the entire industry chain, an industrial revolution in technology. The public technology platform will provide support for the sound development of the whole industry and will also play an important role in the positive interaction among the leading enterprises.
China Video Association and China Optics and Optoelectronics Industry Association LCD Branch latest data show that China is under construction and has announced plans flat-panel display production line investment has reached 800 billion yuan. Among them, the LCD panel investment over 500 billion yuan. It is estimated that around 2019, China will become the largest flat panel display production base in the world.
The information society, showing ubiquity. TV, computers, smart phones, wearable devices, etc., are inseparable from the support of the display. According to statistics, in 2016 our country shows that the operating income of the industry exceeded 200 billion yuan. In the first half of this year, China's display panel shipment area of ​​about 57 million square meters, accounting for about 1/3 of the global shipments, second only to South Korea ranks second in the world.