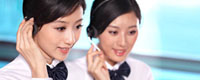 Name: Jessie
Tel: +86-755-27864416
Mobile: +86-18823763597
E-mail: jessie@rxxdisplay.com
Add: 3rd Floor Bldg.11,ChangXing Technical Zone,Wan An Road,Sha Jing town,Ban An district ,Shen Zhen ,GuangDong, China.
Skype: +8618823763597
WeChat: +8615623028461
whatsapp: +8618823763597
QQ: 1610996003





Company News
>> UDC and BOE Sign Phosphorescent OLED Material Supply Agreement
Recently, Universal Display (UDC) and BOE Technology (BOE) signed a long-term OLED agreement. Under the agreement, UDC will supply BOE OLED materials. UDC and BOE signed the first agreement in 2014, this time evolved into a long-term agreement.
October 26, BOE Chengdu 6 generations of flexible OLED panel production line. This is the 6th generation flexible OLED panel line that is the first in China and the second in volume production in the world, breaking the monopoly of Korean enterprises in the flexible OLED panel market.
Zhang Yu, vice president of BOE, said that a total investment of 465 billion yuan in the sixth generation of BOE Chengdu OLED line full capacity next year, full design capacity of 48,000 per month substrate (1850mmX1500mm). The other side of the BOE in Mianyang 6 generations of flexible OLED lines will be put into operation in 2019.
It is understood that the current phosphorescent OLED luminescent material market dominated by UniversalDisplay (UDC), UDC has the basic phosphorescent OLED luminescent material patents. All major OLED manufacturers, including Samsung and LGD, are using UDC's materials for higher display efficiency.