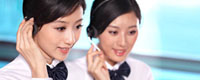 Name: Jessie
Tel: +86-755-27864416
Mobile: +86-18823763597
E-mail: jessie@rxxdisplay.com
Add: 3rd Floor Bldg.11,ChangXing Technical Zone,Wan An Road,Sha Jing town,Ban An district ,Shen Zhen ,GuangDong, China.
Skype: +8618823763597
WeChat: +8615623028461
whatsapp: +8618823763597
QQ: 1610996003





Company News
>> Hefei BOE pull new display industry cluster effect
Now Hefei's northeast, thriving scene. Since the start-up of the BOE 6-generation line, the new station has persisted in attracting investment in the industrial chain and realized the overall layout of "from sand to complete machine". The overall industrial scale, innovation capability and localization supporting level are leading in the country. Up to now, the new display industry base in more than 70 practitioners, a total investment of more than 100 projects, has completed an investment of over 130 billion yuan.
Distance from the BOE Hefei 8.5 on behalf of the line three kilometers is Hefei Sanlibao Optoelectronics Technology Co., Ltd., Sanli spectrum is the leading polarizer domestic enterprises in 2014 enterprises have been in the location of Hefei and Wuhan have wandered between, But in the end chose Hefei.
Hefei Sanli spectrum put into operation in October 2015, the current one has two production lines, mainly for the BOE display do polarizer supporting. Because with the new display base within a short distance, companies can even do zero inventory, production of polarizers directly supplied to the BOE.