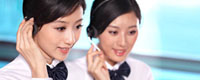 Name: Jessie
Tel: +86-755-27864416
Mobile: +86-18823763597
E-mail: jessie@rxxdisplay.com
Add: 3rd Floor Bldg.11,ChangXing Technical Zone,Wan An Road,Sha Jing town,Ban An district ,Shen Zhen ,GuangDong, China.
Skype: +8618823763597
WeChat: +8615623028461
whatsapp: +8618823763597
QQ: 1610996003





Company News
>> 0.49 inch OLED screen! This is the world's smallest mobile phone: one-handed king
If you think that all mobile phones are moving in the direction of large screens, high-resolution screens, and narrow bezels, it is wrong. There are always some groups in the world that do not need such a big screen, do not need to surf the Internet, play games, and they The demand is just to make and receive calls and to carry it easily.
As a result, a trend-setting mobile phone appeared - Zanco Tiny T1, the world's smallest mobile phone. As you can see, Zanco Tiny T1 measurements only 46.7 / 21 / 12mm, weighs only 13g, a lot less than a coin, with the car keys, you can easily into the pocket of jeans pocket.
Function, the phone is equipped with a 0.49-inch OLED screen with a resolution of 64x32, using a physical keyboard, can store 300 contacts combined 50 SMS, Nano SIM card support, Micro USB interface, built-in 200mAh capacity battery, the highest call Time 180 minutes, you can stand for 3 days.
The Zanco Tiny T1, which only supports 2G networks, is currently being crowdfunding on the Kickstarter platform for less than £ 30 (£ 264) and is due to ship in May 2018.