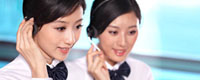 Name: Jessie
Tel: +86-755-27864416
Mobile: +86-18823763597
E-mail: jessie@rxxdisplay.com
Add: 3rd Floor Bldg.11,ChangXing Technical Zone,Wan An Road,Sha Jing town,Ban An district ,Shen Zhen ,GuangDong, China.
Skype: +8618823763597
WeChat: +8615623028461
whatsapp: +8618823763597
QQ: 1610996003





Company News
>> TV demand is strong, LCD panel price rally will remain to the third quarter 6th,Apr,2017
While stronger-than-expected demand and price hikes are good news for large-size LCD industries that suffer from the global economic downturn, there is still a cloud in this optimism. Many mainstream LCD panel prices fell below the manufacturer's cash cost in the fourth quarter of 2008, until most LCD prices remained at those low levels in April. This has driven suppliers to reduce shipments by cutting capacity utilization.
As a result, panel supply is tight and helps push up prices. As panel prices rose higher than expected, suppliers to most of the notebook and display panel prices to cash costs above. TV panels are also starting to rise above the level of cash costs.
At the same time, the shortage of components used to produce LCDs continues, making it difficult for suppliers to meet some orders and further push up prices.
The panel and system inventory levels throughout the supply chain remain at normal to low levels, and inventory activity continues. In fact, most panel vendors report that the module inventory is only two weeks, the equivalent of the brand manufacturers and system integrators in the hands of inventory.
Similarly, many brand manufacturers, especially TV manufacturers, said it was difficult to obtain a sufficient number of panels. April final system inventory only two to three weeks, in a healthy to low level. However, most brands in May began to report panel supply improved.
As the current panel suppliers and buyers are low, buyers will have to build inventory for the upcoming holiday sales to prepare. While sales are expected to grow, buyers and suppliers are expected to keep inventory at a low level to maintain good control of inventory.
However, if the panel prices continue to rise too fast, will crack down on system vendors to provide attractive prices for the holiday season. This may affect panel requirements for the next few quarters. In addition, some TV system vendors are unsure of the actual demand for end users in the second quarter.