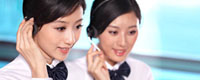 Name: Jessie
Tel: +86-755-27864416
Mobile: +86-18823763597
E-mail: jessie@rxxdisplay.com
Add: 3rd Floor Bldg.11,ChangXing Technical Zone,Wan An Road,Sha Jing town,Ban An district ,Shen Zhen ,GuangDong, China.
Skype: +8618823763597
WeChat: +8615623028461
whatsapp: +8618823763597
QQ: 1610996003





Company News
>> Avnet Electronics released Xilinx video kit and NEC 6.5-inch LCD panel kit 6th,Apr,2017
Avnet Electronics Marketing announces the Xilinx Xilinx Spartan-3A DSP 1800A video kit and the NEC 6.5-inch LCD panel suite. These two kits provide early pre-research, prototyping and design development solutions for video surveillance, machine vision, video processing and embedded LCD panel interface applications.
Avnet's Xilinx Spartan-3A DSP 1800A Video Suite is a complete integrated platform that includes the new NEC 6.5-inch LCD panel kit, the Avnet PS-Video EXP module and the Spartan-3A DSP Starter Kit. It supports a variety of video input and output formats, through the flexibility of Spartan-3A DSP FPGA, for designers to study the video application design provides the necessary hardware and interfaces. Avnet also offers a number of reference designs to demonstrate its FPGA interface capabilities and DDR2-based video display buffer controller.
The NEC 6.5-inch LCD panel kit features a custom plastic package that includes a 1024x768-pixel extended graphics array (XGA), LED backlight, LCD panel, 12V power supply and data interface cable. This kit is the ideal display plug-in for the Avnet PS-Video EXP module, providing a high-resolution display for the various video features of the PS-Video module. NEC's LCD panel and PS-Video EXP module, together with several other substrates (support Virtex5 and Spantan-3A devices, respectively), together for the development of video solutions to create a complete prototype environment.
"The new Avnet Spartan-3A DSP 1800A video kit is based on the popular Xilinx Spartan-3A DSP 1800A substrate," said Jim Beneke, vice president of technology marketing for Avnet Electronics Components. "We developed the LCD panel for our customers Increase the video input and output capabilities, and high-resolution LCD panels.We also provide a reference design to show designers how to drive the LVDS interface of the panel, buffer video display and how to implement real-time video processing in the FPGA.
"Avnet's video suite is a powerful complement to the Xilinx series of video solutions," said Tim Erjavec, senior director of platform solutions and services marketing at Xilinx. "The suite offers a variety of reference designs based on an embedded design framework that allows users Can use Xilinx's rich intellectual property (IP), development tools and design methods to create practical custom video designs in a short time, which helps customers reduce risk and enable them to focus their design efforts In terms of product value - added, differentiation.