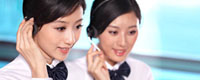 Name: Jessie
Tel: +86-755-27864416
Mobile: +86-18823763597
E-mail: jessie@rxxdisplay.com
Add: 3rd Floor Bldg.11,ChangXing Technical Zone,Wan An Road,Sha Jing town,Ban An district ,Shen Zhen ,GuangDong, China.
Skype: +8618823763597
WeChat: +8615623028461
whatsapp: +8618823763597
QQ: 1610996003





Company News
>> March 2018 Mobile & Tablet panel price indicator
Mobile panel:
After the Spring Festival, the demand for branded goods has recovered, but the overall supply situation is still relaxed, and the trend of price cuts remains the same.
Due to the rapid spread of the full screen, the original 16:9 product demand continued to shrink, the enthusiasm of price cuts was not high, the amplitude was not obvious, and the full-screen products gradually became the mainstream of the market, and the supply became more mature and the main products for price reduction.
Tablet Panel:
Tablet PC market continued to slump under the dual influence of weak demand and traditional off-season. Terminal pull-to-panel power is also weakening. Panel prices are still in the down channel, and there will be room for future price declines.