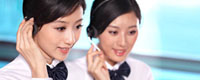 Name: Jessie
Tel: +86-755-27864416
Mobile: +86-18823763597
E-mail: jessie@rxxdisplay.com
Add: 3rd Floor Bldg.11,ChangXing Technical Zone,Wan An Road,Sha Jing town,Ban An district ,Shen Zhen ,GuangDong, China.
Skype: +8618823763597
WeChat: +8615623028461
whatsapp: +8618823763597
QQ: 1610996003





Company News
>> Lingtai pushes new LCD driver and PLC module 17th,March,2018
Averlogic Technology Co., Ltd. (Averlogic) introduced the second generation of small and medium-size display single-chip driver ─ ─ AL330, adopted 128-pin LQFP package, the size of only 14 × 14mm, with low power consumption, containing three 10-bit high-accuracy ADC, 2D full-format video decoder, image enhancement processing circuit, liquid crystal timing control circuit, OSD, de-interlace processing and other circuits; In addition, the built-in 8052 MCU can simplify peripheral design, effectively reducing design costs and design difficulties.
AL330B is suitable for the drive display of small and medium size TFT-LCD digital LCD panel drivers and active OLED panels, and provides value-added solutions; Lingtai not only provides standard reference designs and development kits to meet different customer needs. , Also provides a full range of technical support to shorten the customer product development cycle. The AL330B can also be paired with other Lingtai products to provide an overall solution with excellent performance and cost advantages.
In addition, Lingtai also announced that it will demonstrate the use of power lines to transmit high-definition (HD) video signal modules at the Computex in June in Taipei. These products will include "Powerline HD High Resolution Audio Video Modules," "Powerline Music Modules," and "Powerline Network Cameras."
Ling Tai said that compared to WLAN and other wireless transmission, PLC is more reliable and convenient, it can solve the inherent limitation of wireless transmission technology difficult to wall, and is more suitable for digital home video transmission. Whether it is home entertainment equipment, or wireless transmission equipment itself, all need to plug in to operate, although some portable audio and video equipment is equipped with a battery, but the battery also needs power to charge, so even wireless transmission equipment Can not save that power line. Therefore, international companies are seeking alternative solutions for wireless transmission. It will be a trend in the market to transmit home high-resolution high-definition video and audio signals through power lines in the future.
Power supplies are the basic requirements for various audio and video entertainment devices in the home. Both the sending and receiving ends of the signals must be located near the outlets for power supply; and there are ready-made distribution networks in the home, and almost all rooms have outlets, so the power line is used. The transmission of audio and video signals has become a very natural choice because the signals can be transmitted to every corner of the power supply, without the need to re-extract additional wires. It will not affect the aesthetics of the house.
In addition to convenience and cost savings, power line transmissions are far less disruptive than current wireless transmissions, especially compared to wireless applications using the 2.4GHz band. Indoor transmission distance, power line 300M/1F to 4F, wireless 100M/1 to 2F; wall penetrating power, power line without restrictions, wireless can only pass next door, it is difficult to receive the message on two walls; privacy mechanism The signal transmitted by the power line is closed at home; the wireless transmission signal is open and may be received by neighbors.
Lingtai Technology's "Powerline HD High Resolution Audio Video" module includes a transmitter (TX) and a receiver (RX). It can use high-definition audio and video digital signals (up to 1920x1080/24p or 60i) compressed by H.264 technology through the power line, from A/V playback devices such as Blu-ray video players, game consoles PS3/X- Box or set-top box (STB), transmitted to a compatible high-resolution TV for display.
Combining H.264 compression, multimedia network control, and power line transmission technologies, high-resolution digital audio and video programs can flow more smoothly at home (up to 20 Mbps in size) and transmit farther (easily across reinforced concrete or steel) Bone structure building 1st to 4th floor).
This module can achieve "one-to-many" transmission, that is, put a transmitter (TX) in the living room, can transmit the signal to the receiver (RX) of three rooms. The module basically supports five A/V sources (3 HDMI + 1 Y/Pb/Pr + 1 CVBS). The transmitters (TX) all have built-in remote control devices. The remote control can be used on the receiving end ( RX) Select the program to listen to or watch.
Lingtai will also present solutions for "Powerline Transmission of iPod Music and 192KHz Audio" as well as the final consumer products that will place the module into outdoor speakers. Using the most advanced audio processor and power line transmission technology, the high sound quality played by the iPod or CD player can be transmitted through power lines to audio/video equipment placed indoors or outdoors in the home without losing any distortion.
The "Powerline Network Camera" puts the H.264 network video server module into a network camera. It can be driven without a computer. It can use any TV or monitor at home to monitor the images received by cameras installed in any corner; When you are away from home, you can use a computer to view the real-time image of the webcam as long as you have an internet environment.