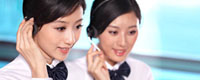 Name: Jessie
Tel: +86-755-27864416
Mobile: +86-18823763597
E-mail: jessie@rxxdisplay.com
Add: 3rd Floor Bldg.11,ChangXing Technical Zone,Wan An Road,Sha Jing town,Ban An district ,Shen Zhen ,GuangDong, China.
Skype: +8618823763597
WeChat: +8615623028461
whatsapp: +8618823763597
QQ: 1610996003





Company News
>> AMOLED panel production cost has formed a golden cross with LCD 28th,March,2018
High-resolution AMOLED panels are not far behind in replacing LCDs. The latest IHS report pointed out that the production cost of AMOLED panels has formed a golden cross with LCDs, and the production costs for the first quarter were US$ 14.3 and US$ 14.6 respectively.
AMOLED eliminates the need for backlighting to save power compared to LCDs, and the color and contrast performance is also excellent. If you gain cost advantages, Vulnerable AMOLED will undoubtedly become the first choice for smart phone manufacturers, fully replacing LCDs just around the corner.
AMOLED's ability to leap milestones so quickly has been attributed to panel makers' technological advancements, improved yields, increased capacity utilisation, and close to completion of depreciation of production lines, which has drastically reduced the fixed cost per unit.
Samsung is not only far ahead in the field of AMOLED technology. Last year it saw that mobile phone panels will alternate generations, accelerating the foresight of small panel layouts. Thanks to orders from all major mobile phone plants in China, Samsung's Display capacity utilization rate is nearly full, reaching 90-95%. If compared with Qicheng's capacity utilization rate, IHS estimates that Samsung's panel production cost can be reduced by about 16%. .