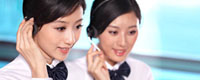 Name: Jessie
Tel: +86-755-27864416
Mobile: +86-18823763597
E-mail: jessie@rxxdisplay.com
Add: 3rd Floor Bldg.11,ChangXing Technical Zone,Wan An Road,Sha Jing town,Ban An district ,Shen Zhen ,GuangDong, China.
Skype: +8618823763597
WeChat: +8615623028461
whatsapp: +8618823763597
QQ: 1610996003





Company News
>> Samsung announced $2.4 billion into OLED panel 7th,May,2018
The Chinese factory cuts the price to attack, the liquid crystal panel is unprofitable, the Han factory turns to the OLED panel. The current large-scale OLEDs are dominated by LG Display (LGD), and it is said that Samsung decided to enter the market and is testing mass production technology to lower costs and knock down LGD.
Korean media ETNews reported on the 23rd, industry sources, Samsung's Samsung Display will determine the mass production of OLED TV panel technology in May. Samsung Display is testing new methods that combine chemical vapor deposition (CVD) and ink jet printing, which are used interchangeably to increase yield. Because OLED materials are not heat-resistant, they are easily damaged during deposition and etching, and the use of inkjet methods can reduce failures.
Samsung Display adopts CVD machines and Kateeva inkjet devices for its application materials, and has continuously revised its mass production technology. The number of OLED stack layers has been reduced from 5 to 3 layers. Samsung's large-scale OLEDs use their own WOLED (White OLED) technology. Unlike LGD, they hope to significantly reduce costs and ensure market competitiveness.
It is understood that Samsung Display will finalize a large-scale OLED mass production investment plan, and the initial amount may be 3 trillion won (about 2.44 billion US dollars). Industry representatives said that Samsung Display believes that the current price of OLED TV panels is still too expensive for consumers. The company needs to develop suitable new technologies and it must also obtain price competitive advantage before it enters the market in order to grab a dominant position. right.