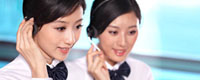 Name: Jessie
Tel: +86-755-27864416
Mobile: +86-18823763597
E-mail: jessie@rxxdisplay.com
Add: 3rd Floor Bldg.11,ChangXing Technical Zone,Wan An Road,Sha Jing town,Ban An district ,Shen Zhen ,GuangDong, China.
Skype: +8618823763597
WeChat: +8615623028461
whatsapp: +8618823763597
QQ: 1610996003





Company News
>> Showcasing the strength of domestically-made flexible AMOLED technology and Huiguang Opto-Electronic Co., Ltd. adding bright color to CITE2018 8th,May,2018
As the country's premier electronic information industry expo, the 6th China Electronics Information Expo (CITE2018) was officially held on April 9. For the panel industry, this is also a grand event that focuses on displaying its achievements in the past year. Panel makers have brought their own latest products and technology appearances, and as a state-owned high-tech company focused on AMOLED display production and R&D, Hehui Optoelectronics has also focused on its flexible AMOLED technology series.
The rise of home-made AMOLED screens and the stunning appearance of Huiguang's flexible AMOLED products
Hehui Opto-electronics, as the first Chinese company to achieve mass production of AMOLEDs, has made remarkable achievements in the research and development of AMOLED technology, especially flexible AMOLEDs. At the CITE2018 exhibition, Hehui Optoelectronics focused on displaying the latest AMOLED technology and products, including full-screen products and flexible screens.
After the full screen began to become popular in the second half of last year, this year will usher in a full-scale outbreak. Many handset manufacturers such as Huawei, OPPO, vivo, Xiaomi, Jinli, and Sharp have all released their own full-screen mobile phones. In order to help mobile phone manufacturers adopt the latest AMOLED full-screen products and enhance their product competitiveness, Holtek has provided a series of comprehensive AMOLED screen solutions.
Among them, for smart phone AMOLED applications, Hehui Optoelectronics has exhibited a series of multi-size AMOLED products. Some products have also been successfully applied to some models of domestic leading mobile phone brands Huawei. At the same time, Xiaomi and Meizu also have some models of applications. In addition, it is worth noting that Hehui Optoelectronics also demonstrated the current mainstream size of 18:9 full-screen AMOLED, and will soon open applications.
In addition to smart phones, Hefei Opto-electronics also exhibited AMOLED products that are applicable to various fields such as wearables, automotives, and VRs. Some of the smaller-sized products have already been used in Huawei and BBK watches. In fact, as many as 30 smartphones and watches have been used with Harmony AMOLED displays, indicating that their AMOLED products have already begun to be fully applied.
Of course, as a manufacturer specializing in the research and development of AMOLED for many years, Hehui Opto-electronics has obviously achieved more than this.
This exhibition also focused on the AMOLED flexible screens that have already been mass-produced and will be put into mass production. Among them, the site also showcased a full-scale curved screen that will be produced in volume. It represents another mass production upgrade of Hefei Optoelectronics. .
In addition, AMOLED flexible other application forms such as curled screens, folding screens, etc. are also concentrated appearance. The roll-screen design adopts a roll-type design. Its thickness is only 0.2mm, and it is light and thin like paper. It can be all rolled up onto the reel. The development of the roll-up screen reflects the characteristics of the thin, flexible and flexible roll-up of the flexible screen. In the exhibition site and Hui photoelectric also exhibited a 5.5-inch AMOLED folding screen, the screen thickness of only 0.2mm, bending radius of 3mm, can be completely folded, can be said to truly achieve the vision of the phone folding, also For the next generation of folding mobile phones to achieve the direction.
The display of numerous flexible AMOLED products contrasts LCD hard screens, highlighting the great advantages of AMOLED flexible screens. Although hard-screen AMOLED products are still the mainstream, flexible products are more and more concerned by the consumers in the market, and the focus of consumer electronic equipment manufacturers will eventually shift from the traditional flat and rectangular designs to the latest arcs and folds. Or curl screen, AMOLED flexible features allow more possibilities for its application. The purpose of Hehui Optoelectronics is to allow these possibilities to be realized on actual products.
Hehui Optoelectronics Helps China Become the Main Force of AMOLED Shipment
As we all know, under the siege of Japan and South Korea, the domestic panel factory has come along all the way, especially in the field of AMOLED.
Although Samsung currently holds more than 95% of the global mobile device AMOLED market, the rise of domestic AMOLED will gradually change the existing pattern. The huge market and complete downstream industrial chain are the most powerful support for the development of the panel industry in China, and the speed of development of domestic AMOLEDs has increased significantly.
Some institutions have forecasted that the annual production capacity of medium-sized and small-sized AMOLED panels of Chinese panel makers will grow at a compound annual growth rate of 76%, reaching 11.31 million square meters in 2022, accounting for 33.4% of the total global production capacity, second only to Korean panel makers. In the near future, China will also become the main force for the shipment of small and medium size AMOLED panels!
In recent years, there have been many panel manufacturers investing in AMOLED production lines, and the investment in flexible AMOLED production lines has also increased accordingly. There will be many achievements in this year and next year. In the field of flexible AMOLEDs, Hehui Optoelectronics has been at the forefront and has helped the rapid development of domestic flexible AMOLEDs. Among them, Hehui Opto-electronics had a total investment of 27.278 billion yuan in the second phase of the AMOLED project in December 2016. The first batch of equipment handling was started in July this year, and trial production will be officially started in January next year. The scale of production capacity can reach 30,000 large substrates per month. The products are mainly small and medium-size display screens and modules (partially flexible) ranging from 1 to 13 inches to meet the demand of domestic mobile phone manufacturers for the panel.
With the mass production or expansion of flexible AMOLED production lines, more and more mobile phone manufacturers will adopt flexible AMOLED panels. Hehui Optoelectronics is expected to take advantage of the advanced advantages of flexible AMOLED technology, seize this wave of mobile phone revolution, and rapidly increase its market share. In the future, its flexible AMOLED technology is expected to drive the domestic market share of AMOLED to climb, which will help the development of China's AMOLED industry. .