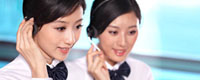 Name: Jessie
Tel: +86-755-27864416
Mobile: +86-18823763597
E-mail: jessie@rxxdisplay.com
Add: 3rd Floor Bldg.11,ChangXing Technical Zone,Wan An Road,Sha Jing town,Ban An district ,Shen Zhen ,GuangDong, China.
Skype: +8618823763597
WeChat: +8615623028461
whatsapp: +8618823763597
QQ: 1610996003





Company News
>> Samsung push 48-inch LCD TV panel: with the Taiwan panel than the low price 8th,Apr,2017
Samsung Display will launch a 48-inch LCD TV panel, priced at about $ 30 (about RMB 187) cheaper than the 50-inch panel made by Taiwan panel makers.
In order to meet the domestic demand for 50-inch and below the large number of TV panels, Samsung to Taiwan panel makers launched onslaught, launched 48-inch panel, intended to further seize the 50-inch and below the TV panel market. Samsung will use the 8.5G production line to produce 48-inch panels.
Samsung 48-inch panel of the market will lead to TV panel manufacturers price competition between the intensified, many TV manufacturers have to seek low-cost solutions.
Over the past year, Taiwan panel makers with product differentiation strategies have benefited from the manufacture of 39-inch and 50-inch LCD TV panels. With the Samsung 48-inch panel to join the TV panel camp, TV panel market structure will undoubtedly be affected.
Taiwan panel makers accounted for the largest market share of ultra HD (Ultra HD) TV panels in 2014 and expect stable demand from mainland TV providers.