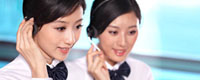 Name: Jessie
Tel: +86-755-27864416
Mobile: +86-18823763597
E-mail: jessie@rxxdisplay.com
Add: 3rd Floor Bldg.11,ChangXing Technical Zone,Wan An Road,Sha Jing town,Ban An district ,Shen Zhen ,GuangDong, China.
Skype: +8618823763597
WeChat: +8615623028461
whatsapp: +8618823763597
QQ: 1610996003





Company News
>> Chinese panel makers launch full-screen profile panel products
A message revealed by the recently concluded China Electronics and Information Expo (CITE) is that most panel suppliers in China are actively developing 18:9 full-screen and profile panels to meet the needs of the mobile phone market, which is the largest application of small and medium size panels. market.
From a technical perspective, the current focus of Chinese flat panel manufacturers is still on the development of flexible AMOLED panels.
The rapid change in aspect ratio from 16:9 to 18:9 aspect ratio and the adoption of high-end smartphone profile panels have actually expanded to include WVGA panels for entry-level models. In addition, LTPS and IGZO TFT LCD panel makers have begun to use their respective technologies to produce high-definition panels, including high-end full-HD panels.
While developing AMOLED panels for mobile applications, Chinese panel makers are also seeking to extend the application of such panels to other areas, such as under-the-screen fingerprint recognition and facial recognition applications.
Although AMOLED panels are currently mainly used for the production of smart watches and other wearable devices, Chinese panel suppliers are also keen to develop TFT LCD panels suitable for wearable applications, including the introduction of smart watches, with semi-reflective translucency Panel products, quick response panels for VR glasses, etc.