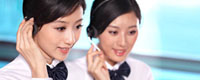 Name: Jessie
Tel: +86-755-27864416
Mobile: +86-18823763597
E-mail: jessie@rxxdisplay.com
Add: 3rd Floor Bldg.11,ChangXing Technical Zone,Wan An Road,Sha Jing town,Ban An district ,Shen Zhen ,GuangDong, China.
Skype: +8618823763597
WeChat: +8615623028461
whatsapp: +8618823763597
QQ: 1610996003





Company News
>> TCL to invest 42.7 billion yuan to build large-size display production line
Yesterday evening, TCL issued an announcement saying that in order to comply with the development trend of semiconductor display technology, it grasped the high-growth market opportunities for large-size ultra-high-definition display panels and accelerated the industrialization of new display technologies to further consolidate the market share of Huaxing Optoelectronics in large-size panels. With technological advantages, TCL Group Co., Ltd. (hereinafter referred to as "the company" or "the company") plans to invest in a new ultra-high-definition 11th generation ultra-high-definition new type that can process approximately 90,000 3370mm x 2940mm glass substrates per month in Guangming New District, Shenzhen. Display device production line, the main production and sales of 65 ", 70" (21: 9), 75 "8K ultra-high-definition display and 65 "OLED, 75" OLED display.
The total investment of the project is about 42.683 billion yuan. Shenzhen Huaxing Optoelectronics Technology Co., Ltd. (hereinafter referred to as "Huaxing Optoelectronics") and Shenzhen Major Industrial Development Phase I Fund Co., Ltd. (hereinafter referred to as "Industrial Development Fund") were signed by the company and its controlling subsidiary on May 22, 2018. The 11th Generation Ultra High Definition New Display Device Project Cooperation Agreement, China Star Optoelectronics and Industry Development Fund will jointly increase the registered capital of Shenzhen Huaxing Optoelectronics Semiconductor Display Technology Co., Ltd. (hereinafter referred to as the "target company") by RMB 20.3 billion.
According to the announcement, the project started the related basic projects such as planning and design, environmental impact assessment, etc. in April 2018; the product was lighted up in December 2020; mass production was officially completed in March 2021.
TCL said that when the project is completed, it will greatly enrich the company's product line, especially in the large-scale, 8K product market share; at the same time will be conducive to the development of new technologies and industrialization, to achieve oxide semiconductors, printing OLED and other new The application of technology will take the lead in mastering the next generation of new display technologies, further enhancing the competitiveness of Huaxing Optoelectronics, and making the company bigger and stronger.