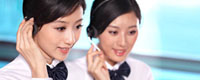 Name: Jessie
Tel: +86-755-27864416
Mobile: +86-18823763597
E-mail: jessie@rxxdisplay.com
Add: 3rd Floor Bldg.11,ChangXing Technical Zone,Wan An Road,Sha Jing town,Ban An district ,Shen Zhen ,GuangDong, China.
Skype: +8618823763597
WeChat: +8615623028461
whatsapp: +8618823763597
QQ: 1610996003





Company News
>> SID 2018: What screens have BOE, LGD, Tianma, Visionox, and AUO?
SID 2018 was opened at the United States Los Angeles Convention Center Kaim at 10:00 am local time on May 22. At this exhibition, BOE, LGD, Visionox, Tianma, AU Optronics and other manufacturers exhibited the latest display technology and new products, and brought a feast to the visitors.
BOE
On SID2018, BOE displayed flexible display solutions, 8K ultra-high definition display solutions, and the world's leading IoT port solutions such as microdisplay and QLED display, which provided a stunning visual experience for the site visitors.
Flexible display overall solution unveiled
In BOE booth, there are not only flexible flexible, flexible, AMOLED products that can be folded, can be curled, and can even move in the wind, but also have a fingerprint recognition system that supports any position in the display area, as well as super cute cute flexible display robots and scientific sense. Fully flexible display smart speakers, S-shaped flexible AMOLED vehicle-mounted screens, foldable mobile terminals and other innovative applications ... BOE's flexible display of the overall solution has become a major highlight of SID2018.
It is understood that BOE launched a foldable WQHD AMOLED full-screen can achieve the world's smallest dynamic bending, radius of only 1mm, bending more than 100,000 times, color gamut NTSC up to 118%, greatly enhance the mobile terminal products user experience. At the exhibition, BOE displayed a variety of complete products such as a 5.99-inch folding cell phone and a 7.56-inch foldable tablet PC. When folded, it was a mobile phone screen that could be used as a tablet computer or a computer display screen when it was expanded.
Equally compelling are robots that move around. BOE has innovatively applied two flexible screens to robots, equipped with touch functions, and has advantages such as high resolution, high contrast, and high color gamut. In addition, BOE also spliced three 5.99-inch flexible screens to achieve high-altitude streamlined water-repellent screens. These innovative technologies, products, and solutions in the field of flexible displays provide a broader space for imaging applications.
In recent years, as one of the orientations of OLED technology, print display technology has attracted much attention in the industry. This time, BOE took the lead in applying the printing technology to mobile terminal products and launched a 5.5-inch FHD (1920 x 1080) printing flexible OLED display to continuously enhance the performance of printed OLED display devices.
Build 8K Ultra HD Ecology
From the upstream material equipment to the terminal manufacturers, the ubiquitous "ultra-high definition" in the SID2018 exhibition hall reflects the arrival of the 8K era. On the SID2018, in addition to the 110-inch 8K, 75-inch 8K, and 65-inch 8K naked-eye 3D displays, BOE also brought 13.3-inch 8K display products to drive the 8K era in small and medium size.