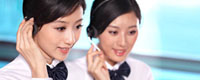 Name: Jessie
Tel: +86-755-27864416
Mobile: +86-18823763597
E-mail: jessie@rxxdisplay.com
Add: 3rd Floor Bldg.11,ChangXing Technical Zone,Wan An Road,Sha Jing town,Ban An district ,Shen Zhen ,GuangDong, China.
Skype: +8618823763597
WeChat: +8615623028461
whatsapp: +8618823763597
QQ: 1610996003





Company News
>> AUO Demonstrates High-Resolution Full-Color TFT Driver MicroLED Display
According to foreign media reports, at the SID's Display Week 2018 exhibition in Los Angeles recently, AU Optronics introduced the company's claim to be the world's highest resolution and full-color TFT-driven MicroLED display technology.
MicroLED technology is used for self-luminous displays with a MicroLED array structure. The display features high brightness, high contrast, and a wide color gamut. In addition, MicroLED displays offer the following performance improvements, including ultra-thin viewing angles, ultra-thin design, low power consumption, and fast response time.
AUO demonstrated this full-color 8-inch TFT-driven MicroLED display developed with the LTPS-TFT backplane. The display can emit light independently for each pixel to achieve a high dynamic range of fine images. In addition, the display consumes less power than other displays of the same size.
AU Optronics said that the screen can achieve a pixel density of 169 pixels per inch, of which MicroLED size is less than 30 microns. In addition, by combining color conversion technology, the display can also provide more accurate high dynamic range color performance.
AU Optronics revealed that it will continue to invest in the research and development of resources to ensure its core technological advantages and achieve further development in the future.