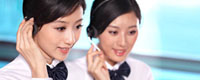 Name: Jessie
Tel: +86-755-27864416
Mobile: +86-18823763597
E-mail: jessie@rxxdisplay.com
Add: 3rd Floor Bldg.11,ChangXing Technical Zone,Wan An Road,Sha Jing town,Ban An district ,Shen Zhen ,GuangDong, China.
Skype: +8618823763597
WeChat: +8615623028461
whatsapp: +8618823763597
QQ: 1610996003





Company News
>> LG Unveils Mystery of Translucent Curable OLED Displays
In recent years, LG has given us a vision of a transparent OLED display and a curlable OLED display, but it has not yet become a reality. It now appears that the future outlook is about to be realized, because LG Display has demonstrated its so-called world's first 77-inch transparent flexible OLED display at the 2018 Los Angeles International Display Week and SID Annual Conference recently, indicating that LG is already on the technology. Great progress has been made.
The combination of transparent and rollable OLED display technology, especially in displays of this size, has shown that LG has made great strides. The panel itself has a standard Ultra High Definition (UHD) resolution of 3840*2160, a transparency of 40%, and a radius of 80 mm after crimping, without any negative effect on its functionality. Its high degree of transparency looks like it is fully integrated into the decorative background and is not as conspicuous as a television.
In-byeong Kang, executive vice president and chief technology officer of LG Display stated: "By introducing the world's first and global best technologies such as IPS, LG Display is proud to have played a pioneering role in the 50-year history of LCD innovation. We will continue to adopt it. Create a new display paradigm for OLED technology and create another revolutionary display of history that continues to provide innovation for the display industry."
At present, most of the practical applications of these new transparent flexible OLEDs will be digital signage, similar to the transparent and mirror displays that Samsung introduced several years ago.
LG has not revealed when it will launch these innovative displays, but it will certainly take action as soon as possible.