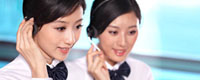 Name: Jessie
Tel: +86-755-27864416
Mobile: +86-18823763597
E-mail: jessie@rxxdisplay.com
Add: 3rd Floor Bldg.11,ChangXing Technical Zone,Wan An Road,Sha Jing town,Ban An district ,Shen Zhen ,GuangDong, China.
Skype: +8618823763597
WeChat: +8615623028461
whatsapp: +8618823763597
QQ: 1610996003





Company News
>> Foreign investment bearish on the outlook of the panel industry
Panel quotes stumble endlessly, the latest views of foreign-funded JP Morgan Chase, HSBC Securities both look down on the outlook of the panel industry, JP Morgan Chase even more pointed, TV panel quotes such as "free fall" diving, will impact the dual tiger Innolux, AUO fundamentals .
According to Zhang Heng, an analyst at JPMorgan securities and technology industry, the Panel Tigers reported an excellent second quarter earnings. However, according to market interviews, panel demand continued to slump. Since the second quarter, the price of the panel continued to fall, and in May, the price decline accelerated. 32吋, 40 The collapse of the panel crashed, with the 32-inch panel dropping to near the cost.
Zhang Heng pointed out that the 32-inch panel fell rapidly and the decline may slow down, but the panel maker has already shifted its production capacity to other sizes. On the other hand, mainland China's 10.5-generation products shipped in April, which further pressured panel prices at 65 and 55. On TV Labor Day in mainland China, TV sales were not ideal. Statistics from AVC and TV sales fell 9 percent year-on-year. %, revenue is also reduced by 11% over the same period, mainland TV panel inventory is still one to two weeks longer than normal.
Contrary to Taiwanese performance, Zhang Heng believes that Innolux and AUO profit in the last quarter may be the last quarter before continuous losses to make money. The outlook for panel shipments in the second quarter appears to be lower than the seasonal level, and the average ASP of the product is forecast. There are also murmurs, AUO expects to remain flat in the first quarter, and Innolux expects a high single-digit decline. Tamamo raised its dual tiger operations based on its first quarter earnings report, but maintained the panel industry's decline.
HSBC Securities pointed out that the decline in ASP of TV panels in May reflected a grim outlook for the panel industry. The slowdown in June is expected to slow down, but the trend of continued declines in the third quarter is established.
Hong Ximin, HSBC Securities's technology industry analyst, said that according to IHS's PriceWise statistics, in May, TV panel ASP decreased by 4% to 11%. The average annual ASP decrease from 29% in April to 34%, which was in pessimistic comparison with HSBC's original quarter. The same view.
HSBC predicts that the decline in June quoted price will slow down, mainly because some brands have the opportunity to prepare for the second half of the busy season, and panel makers may also consider reducing the use of production capacity. HSBC expects the ratio of panel and TV panels to drop to 28% in May, close to 27% in the April 2016 downturn, and the decline may slow. However, with the increase of pressure in the mainland supply chain, the fundamentals of Innolux and AUO are still cautious.