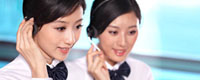 Name: Jessie
Tel: +86-755-27864416
Mobile: +86-18823763597
E-mail: jessie@rxxdisplay.com
Add: 3rd Floor Bldg.11,ChangXing Technical Zone,Wan An Road,Sha Jing town,Ban An district ,Shen Zhen ,GuangDong, China.
Skype: +8618823763597
WeChat: +8615623028461
whatsapp: +8618823763597
QQ: 1610996003





Company News
>> Peng Shuanglang: If there are 3 panel makers, there must be AUO
A few days ago, BOE Chairman Wang Dongsheng stated at the shareholders' meeting that "the future of the liquid crystal display industry will be similar to that of CPUs and GPU manufacturing companies. Eventually, there will only be 3 or so global companies, and no more than 5 will be the largest, and the BOE Group will be one of them." In this regard, AUO Chairman Peng Shuanglang responded with confidence and there must be AU in these three companies.
The panel prices have continued to fall. The drop in some dimensions this year has reached 25%, which is close to the cash cost. The market is watching when the TV panel price will stop falling. Peng Shuanglang pointed out that everything is extremely counterproductive and it is impossible to maintain the cash cost for a long time. How could it help people to work and bring their own lunch, and the market will adjust and find a balance.
Peng Shuanglang said that brand manufacturers are nearing the end of inventory adjustment in the second quarter, this year there is the World Cup, and the third quarter, the fourth quarter is the traditional peak season, the demand for orders will be better than the first half, as good as how much? Will look at the brand factory to go to the market, as well as the strength of promotional efforts, the overall point of view, the second half of the panel industry's performance will be better than the first half.
Peng Shuanglang pointed out that there is no rhetoric that the old generation lines are not competitive. Each generation has suitable products. The old generation line is the most suitable for high-order, small-quantity and multi-products. For example, Caijing alone relied on a panel factory in the past few years. Last year, it won interest rates and defeated all panel makers. Industry and scale are definitely not the only conditions. The cost of new generation panel plant development is quite high. Take the 10.5 generation factory as an example. The opening mask costs 100 million yuan, the 8.5 generation mask is about 60 million yuan, and the 5th generation mask is about 10 million yuan. High, it is impossible to do a small amount of diverse products, which is why competitors used to move in and out of the commercial market.
AUO has a wide range of products. In addition to TV panels, NB, monitors, mobile phones, automotive and commercial panels, the company will dynamically adjust its production capacity in response to market conditions.