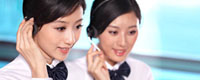 Name: Jessie
Tel: +86-755-27864416
Mobile: +86-18823763597
E-mail: jessie@rxxdisplay.com
Add: 3rd Floor Bldg.11,ChangXing Technical Zone,Wan An Road,Sha Jing town,Ban An district ,Shen Zhen ,GuangDong, China.
Skype: +8618823763597
WeChat: +8615623028461
whatsapp: +8618823763597
QQ: 1610996003





Company News
>> Samsung smart speaker exposure: touch screen display
It's no secret that Samsung is going to build a built-in Bixby smart speaker, but at present, only Samsung knows to be a smart speaker and will have built-in Bixby voice. Others do not know much, but according to Samsung's patent content, it can correspond to the speaker. Some of the features.
According to foreign media phoneArena, Samsung submitted a patent in the United States in November 2017 to enable the speaker to rotate 360 degrees, showing that it is equipped with a total of 7 microphones, a camera and display.
phoneArena said that this design is reasonable, because the rotatable speaker and 7 microphone design can increase the recognition speed, and realize that the user can automatically adjust the position of the speakers.
In addition, Samsung Smart Speakers have a small display with touch functionality that can be used to display text, photos, videos, and recognize various gestures. And there is news that this monitor supports S pen input, just like the Samsung Note phone.