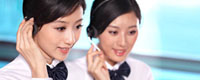 Name: Jessie
Tel: +86-755-27864416
Mobile: +86-18823763597
E-mail: jessie@rxxdisplay.com
Add: 3rd Floor Bldg.11,ChangXing Technical Zone,Wan An Road,Sha Jing town,Ban An district ,Shen Zhen ,GuangDong, China.
Skype: +8618823763597
WeChat: +8615623028461
whatsapp: +8618823763597
QQ: 1610996003





Company News
>> Langfang Customs Helps Production of "China Flexible Display"
On May 28th, Shijiazhuang Customs, a corporate coordinator of Langfang Customs, came to Lang'an Gu'an Industrial New City to solve business problems for Yungu (Guan'an) Technology Co., Ltd. on the spot.
Recently, the No. 6-generation full-flex AMOLED display production line of Visionox's Viscano started operation. This is the first Visconuo's sixth-generation full-soft AMOLED production line with complete independent intellectual property rights in China. Ouyang Jianjun, customs manager of Yungu Company, said: "The flexible fixed curved display screen and flexible curled display screen produced by this production line will break the inherent product form of the display industry in China. The large amount of equipment and raw materials needed for the production line needs to be imported from abroad. If there is no strong support from the customs, our project cannot be run as scheduled."
In the process of project construction, Langfang Customs actively implemented the requirements for "double creation and dual service" activities, clearly defined the concept that "the project was not put into production, the service first started" and targeted the work plan. Selected corporate coordinators to track the entire project production and construction and import and export business operations, understand corporate customs clearance and tax deductions and tax exemptions, provide convenient services such as early classification and consultation, conduct centralized classification guidance on more than 570 kinds of imported commodities, and standardize enterprises' import declarations; Simplify the approval process, improve the timeliness of tax guarantees, tax exemptions and approvals, save time and logistics costs for enterprises, strengthen coordination and communication with Tianjin Customs, etc., and promptly resolve issues such as inspections of high-end precision equipment in dust-free and dark environments.