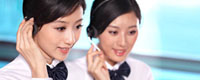 Name: Jessie
Tel: +86-755-27864416
Mobile: +86-18823763597
E-mail: jessie@rxxdisplay.com
Add: 3rd Floor Bldg.11,ChangXing Technical Zone,Wan An Road,Sha Jing town,Ban An district ,Shen Zhen ,GuangDong, China.
Skype: +8618823763597
WeChat: +8615623028461
whatsapp: +8618823763597
QQ: 1610996003





Nowadays more and more full-screen mobile phones are appearing, and the demand for smart phones is also driving the growth of small and medium-sized AMOLED panels. According to statistics, in 2018, the global small and medium-sized AMOLED panel production capacity can reach 13.6 million square meters, up 51% from last year. It is expected that the production capacity will climb to 27.3 million square meters in 2021, which is multiplier compared with 2018.
After the AMOLED panel was adopted in the Apple iPhone series, Samsung became the biggest beneficiary in the AMOLED field. However, in the first quarter of this year, the smartphone market ushered in the off-season, and the demand for AMOLED panels began to decline sharply. In response, Samsung actively adjusted its pricing strategy, narrowed the gap between AMOLED and LTPS panels, and decided to slow down the production of subsequent 6-generation AMOLED panels. Construction of the line.
Due to the increased demand for AMOLED panels by Chinese brand manufacturers and the incentives of government subsidy policies, the investment in new capacity of AM panel panels by Chinese panel makers is still in the ascendant. At the end of last year, BOE produced the first 6-generation line AMOLED production line in Chengdu. In 2018, Tianma Microelectronics and Visionox will also have mass production of 6-generation line AMOLED production line, followed by panels of Huaxing Optoelectronics and Hehui Optoelectronics Planning. The plant was put into production. It is estimated that the overall small and medium-sized AMOLED panel capacity area in China will increase from 16% in 2018 to 37% in 2021, while the proportion of South Korea will fall from 81% to 53%.