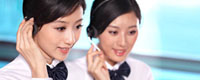 Name: Jessie
Tel: +86-755-27864416
Mobile: +86-18823763597
E-mail: jessie@rxxdisplay.com
Add: 3rd Floor Bldg.11,ChangXing Technical Zone,Wan An Road,Sha Jing town,Ban An district ,Shen Zhen ,GuangDong, China.
Skype: +8618823763597
WeChat: +8615623028461
whatsapp: +8618823763597
QQ: 1610996003





Company News
>> Oufei Technology actively deploys flexible OLED touch technology
Flexible display is considered to be one of the entry points for the development of electronic devices. At this stage, its technological development is only a beginning.
Previously, only Korean companies could produce flexible displays, but in October last year, China's first flexible display production line was mass-produced in Chengdu, breaking the monopoly of foreign companies in this field and accelerating the entry of China's mobile electronic products into the flexible display era. pace of.
Recently, Oufei Technology said that it has done a good job in various technical reserves such as 3D glass and film touch. In addition, we are concentrating on the development of flexible film touch sensing layers, 3D touch sensing layers, 3D full-fit products, etc., and the growth rate of international major customers is steadily improving, and profitability continues to improve. Awaiting the massive release of terminal demand, the company's touch display business will meet the huge market space of flexible touch, which is expected to bring a new round of rapid growth.
In addition, the company's layout of Super Hover touch technology, IFS integrated screen technology, Force Touch touch technology and electrostatic touch feedback touch technology, expand the field of smart wearable touch products and vehicle industrial touch products, provide technical reserves for the company's subsequent development and support. Oufei Technology is also actively deploying flexible OLED touch technology, and it is expected to benefit from the increased penetration of flexible OLED screens in the future.