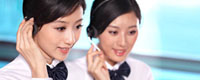 Name: Jessie
Tel: +86-755-27864416
Mobile: +86-18823763597
E-mail: jessie@rxxdisplay.com
Add: 3rd Floor Bldg.11,ChangXing Technical Zone,Wan An Road,Sha Jing town,Ban An district ,Shen Zhen ,GuangDong, China.
Skype: +8618823763597
WeChat: +8615623028461
whatsapp: +8618823763597
QQ: 1610996003





Company News
>> TCL Group: US tax increase of 200 billion US dollars has no impact on the company
Recently, the Office of the US Trade Representative announced that it intends to impose tariffs on China's US$200 billion worth of products. The proposed tax collection includes clothing, TV components, refrigerators and other technology products totaling 200 billion US dollars.
In response to the Sino-US tariff increase, TCL Group Co., Ltd. (hereinafter referred to as the "Company") issued the "Proposed Amendment of China's Product Tariff List on April 9th, 2018 and June 19th, 2018, respectively. The "Announcement on the Impact of the Company's Impact" and the "Announcement on the Impact of the US on the Collection of Tariffs on China's Exports to the US" on the Company's Impact on the Company's Impacts and the company's response measures.
According to TCL Group, according to the list of tariffs to be imposed by the United States, the products such as TV sets, smart phones, and audio products exported by the company to the United States have not been listed. The LCD panels and ice-washed products produced by the company have not been exported to the United States. At present, this tariff list has no impact on the company's products and business units. In addition, the company is closely monitoring developments, taking all effective measures to safeguard corporate interests, reducing possible risks to US trade, and maintaining interaction with investors.