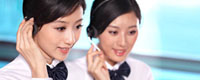 Name: Jessie
Tel: +86-755-27864416
Mobile: +86-18823763597
E-mail: jessie@rxxdisplay.com
Add: 3rd Floor Bldg.11,ChangXing Technical Zone,Wan An Road,Sha Jing town,Ban An district ,Shen Zhen ,GuangDong, China.
Skype: +8618823763597
WeChat: +8615623028461
whatsapp: +8618823763597
QQ: 1610996003





Company News
>> Corning Launches Sixth Generation Gorilla Glass to Deliver Superior Durability for Next Generation Mobile Devices
On July 18, Corning launched its latest breakthrough in glass technology – Corning® Sixth Generation Gorilla® Glass. The sixth generation of Gorilla® Glass continues the tradition of providing the toughest cover glass options for consumer mobile devices for decades and is Corning's most durable cover glass to date.
"As consumers become more dependent on smartphones, the risk of damage due to falling increases, and the protection of the cover glass to mobile phones has never been more important than it is today," said Corning Gorilla Glass Vice President and General Manager John. Bayne said. "The Corning Sixth Generation Gorilla Glass has improved the drop height on the basis of the fifth generation Gorilla® glass and, more importantly, it has withstood many drops."
Increased durability
A recent Toluna Global Consumer Survey data shows that people are dropping 7 times a year on average, and more than half of them are dropped from a height of 1 meter or less. To further enhance the durability of the cover glass, Corning scientists developed, designed and tested new materials to meet the challenges of multiple drops. In laboratory tests, the sixth-generation gorilla glass was able to withstand an average of 15 drops from a height of 1 m to a rough surface, double the performance of the fifth-generation gorilla glass. Under the same test conditions, other competing glasses, such as soda lime glass and aluminosilicate glass, were damaged when they first fell.
"The sixth generation of Gorilla Glass is a new, chemically strengthened glass component that has a higher surface lamination stress than the fifth generation of Gorilla Glass, which further enhances the sixth generation of gorilla glass. "Damage Performance", said Dr. Jaymin Amin, Corning Gorilla Glass and Corning's Vice President of Specialty Materials Technology and Product Development. "In addition, the drop rupture is a probabilistic event, and as the laminate stress increases, the average goodness of the glass in multiple drops will increase accordingly."
Keep up with the rhythm of modern equipment design
In addition to the front display, which has grown in size and size, mobile device manufacturers are turning to glass back covers. These designs offer consumers new features and applications, such as enhanced wireless charging, larger screen sizes while reducing the bezel, and customization through the printed glass back cover. Corning's sixth-generation Gorilla Glass helps achieve these new design trends with optical clarity, touch sensitivity, scratch resistance, efficient wireless charging, and enhanced durability.
Scott Forester, vice president of Corning Gorilla Glass Marketing and Innovation Products Division, said: "In addition to solving the problem of drop height and drop frequency, the new sixth-generation gorilla glass meets the requirements of modern design, that is, at least 85% of the shell is used. Glass design. Glass combines aesthetics and performance to lead the technology trend and will continue to be the material of choice for consumer mobile electronics."
Today, more than 45 major brands, more than 6 billion devices, use Corning Gorilla Glass. Corning's sixth-generation Gorilla Glass is Corning's latest example of continuous innovation – leveraging its core understanding of materials science and process development expertise to create products that change lives.
Several mobile phone manufacturers are evaluating Corning's sixth-generation gorilla glass and are expected to enter the market within the next few months.