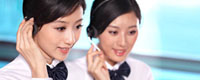 Name: Jessie
Tel: +86-755-27864416
Mobile: +86-18823763597
E-mail: jessie@rxxdisplay.com
Add: 3rd Floor Bldg.11,ChangXing Technical Zone,Wan An Road,Sha Jing town,Ban An district ,Shen Zhen ,GuangDong, China.
Skype: +8618823763597
WeChat: +8615623028461
whatsapp: +8618823763597
QQ: 1610996003





Company News
>> Display panel, sensor and other drivers Sharp's profit increased by 45% in the previous quarter
On July 31, Sharp released its first quarter earnings report for the 2018 fiscal year ending June. Sharp's first-quarter operating profit increased 45% year-on-year, and Sharp's operating profit was 24.8 billion yen ($223 million), compared with 17.11 billion yen in the same period last year. In contrast, the average estimate of seven analysts surveyed by Thomson Reuters was 18.8 billion yen.
The increase in operating profit was mainly due to the strong performance of display panels, camera modules and sensors. Among them, the operating profit of the display panel business was 105 billion yen, a year-on-year increase of 55.6%. In addition, the revenue of the electronic equipment business reached 111.2 billion yen, an increase of 33.6%.
Reuters pointed out that Sharp's latest financial report is also reflected in the leadership of Hon Hai Group, Sharp's recovery is stable.
Sharp's peer, South Korea's LG Display, announced its lack of financial results last week, and its outlook is not as expected. This is in stark contrast to Sharp's strong profit. LG Display has suffered losses for two consecutive quarters, mainly due to weak panel prices and a reduction in investment plans of US$2.7 billion, mainly due to doubts about the global smartphone market.
However, investors are still worried about Sharp's long-term outlook, because the competitive pressure from Asian peers is growing. Sharp and Japan Display have been difficult to respond to the adoption of OLED panels by smartphone operators. This trend has made South Korea's Samsung Electronics and LGD in an advantageous position. Taiwan's other supplier, TSMC, also lowered its revenue and investment estimates earlier this month.