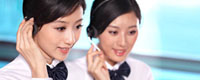 Name: Jessie
Tel: +86-755-27864416
Mobile: +86-18823763597
E-mail: jessie@rxxdisplay.com
Add: 3rd Floor Bldg.11,ChangXing Technical Zone,Wan An Road,Sha Jing town,Ban An district ,Shen Zhen ,GuangDong, China.
Skype: +8618823763597
WeChat: +8615623028461
whatsapp: +8618823763597
QQ: 1610996003





Company News
>> AMOLED panel prices for the first time lower than the LCD A screen era is approaching? 13th,Apr,2017
The latest report shows that the first quarter of 2016, AMOLED panel production costs for the first time lower than the LCD, the two prices were 14.3 and 14.6 US dollars, about 93 and 95 yuan, A screen era really want to come?
AMOLED self-luminous characteristics make it more power than the LCD, and have a higher color saturation and contrast, thickness than LCD has obvious advantages, is conducive to further reduce the thickness of the smart phone. If coupled with the cost advantage, AMOLED completely replace the LCD just around the corner.
The rapid reduction in costs is due to the completion of the production line depreciation in advance, the improvement of panel technology, the increase in capacity utilization and the continuous improvement of production yield, all of which significantly reduce the cost per unit panel.
Layout of Samsung earlier in the AMOLED market share of more than 90%, with the domestic mobile phone manufacturers for AMOLED screen demand increases, Samsung Display current capacity utilization is close to full load, market share is expected to further increase to 95%.
In addition, Apple will advance to 2017 in the new iPhone (or for the iPhone 7s, 7s Plus) on the use of OLED screen news, is also expected to further promote the A screen era coming soon.